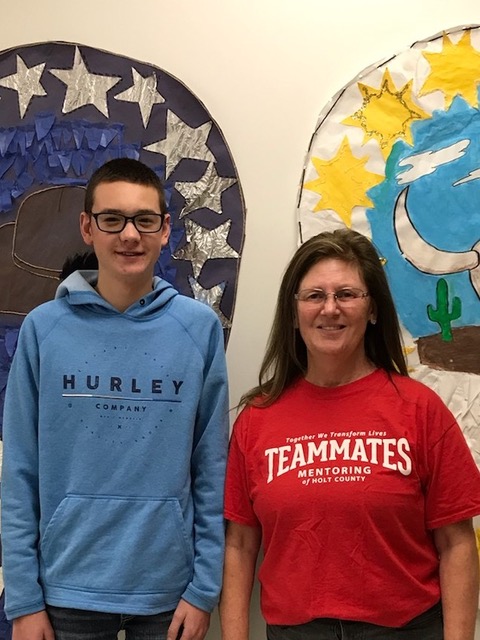 Jill Schaaf has been chosen as the TeamMates mentor of the month for October.  She has been a mentor at Stuart Public Schools since 2017, and is beginning her sixth year with her mentee, Andrew, who is currently a sophomore at Stuart High School.
Jill is a self employed, selling property, casualty, crop, health, and life insurance.  She is able to arrange a weekly meeting with her mentee after school each Wednesday.  If either has a conflict at this time, they will find a different day or arrange a meeting on Zoom.  Jill and Andrew spend their time together in a variety of activities.  Some of these are playing catch with a football or a winged football, shooting hoops, playing games, and chatting, especially about NFL football.  Jill has learned a lot about Andrew's favorite team, the Minnesota Vikings.
Jill and Andrew have also participated in the group activities sponsored by TeamMates.  They have enjoyed bowling parties, cookie decorating for Valentines Day, and movies for the end of the year celebration.  Jill believes their meetings give Andrew a chance to be himself around an adult, without having expectations he has to meet. She enjoys listening to him talk about his interests.
Jill describes her experience as a mentor as "AMAZING!"  It is "rewarding" to see him grow into becoming a young man.  She believes all youth need a supportive person who listens to them and so encourages other adults to volunteer to be a mentor.