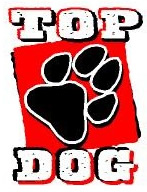 Top Dawg Athlete of the Week is a weekly honor given out by the KBRX Sports Department during the Dawg Pound Sports Show every Wednesday night. Student/athletes are considered based on accomplishments from games the previous week before the Show (Mon-Sat). Any high school athlete from our KBRX coverage area is eligible. Once chosen, an athlete will not be eligible for two months, or until the conclusion of the current sports season. Since we cannot cover all sporting events, listeners and fans are encouraged to submit their nominations to us. If you have a nomination, please fill in the form at the bottom of the page, send it to us via e-mail to sports@kbrx.com, call us at 402-336-1612, fax it to us at 336-3585 or simply tell a member of the Sports Department. Please include a reason why this athlete is deserving of the honor of Top Dawg, and include any stats or other significant achievements that may apply.
Please contact us if you have questions or comments about the Top Dawg Athlete of the Week. Thank you for helping us honor the area athletes who are deserving of recognition for their efforts in representing their schools and communities.
*NOTE: If the form below does not work, please try another method of getting in touch with us. With the new website we are still trying to work through some bugs. Thanks for your patience.
2015-2016 Top Dawgs
Basketball District/State
Justin Appleby – O'Neill Eagle Basketball
Put up 52 points, 21 rebounds and 11 assists in four postseason games. He was key in the comeback against Pierce in the district final, and also helped O'Neill in the near-comeback against Scotus with 24 points. Justin was a key cog in a successful O'Neill run at the end of the year.
Riley Sibbel – St. Mary's Cardinal Basketball
Riley did her part offensively with 59 points, 12 rebounds, 7 assists and 9 steals during the district final and 3 games at State. Riley was the heart of the team defensively, playing the toughest assignment in each game.
3/2/16
Blake Kester – Clearwater/Orchard Cyclone Basketball
Was instrumental in the upset of Ainsworth, scoring 13 points and swiping 3 steals. He was also the primary defender on Brady Delimont (only the most prolific 3-point shooter in Nebraska history), holding him in check throughout the game.
Girls – N/A
2/24/16
Bailey Thompson – O'Neill Eagle Wrestling
Won his first state title by going 4-0 at the state tournament in the 182 pound weight class. Notable wins were a semifinal victory over Cade Svoboda (his first loss) and a championship win over Jack Duffy. Bailey also picked up his 100th career win at the tournament.
Tami Jo Marcellus – Chambers/Wheeler Central Renegade Basketball
Put up 18 points, 10 rebounds, 6 assists, 2 blocks and a steal against a great Stuart team in subdistrict play, also recording 8 points, 6 rebounds and 2 assists against St. Mary's during the week.
2/17/16
Ryan Pelster – Elgin Public/Pope John Wolfpack Wrestling
Earned the district championship in a tough D2 District at 145 pounds, recording 2 pins and 1 decision over quality opponents to qualify for the state tournament.
Payton Birkel – O'Neill Eagle Basketball
Put up 17 points, 10 rebounds and 3 steals against Plainview in a 38-31 Eagle win.
2/10/16
Riley Bilstein – West Holt Husky Basketball
Scored 51 points, added 9 rebounds, 9 assists and 6 steals in three games to help lead the Huskies to their first NVC championship. Riley also made the play at the end of the title game, getting the steal and hitting the free throw to seal the one point win.
Sydney Hupp – St. Mary's Basketball
Helped lead the Cardinals to 2nd place in the tough NVC tournament, playing above her averages in almost every category with 64 points, 32 rebounds, 7 steals and 5 blocks in 3 games during the week.
2/3/16
Andy Kerkman – Clearwater/Orchard Basketball
In a week's work, Andy put up 32 points, 28 rebounds, 3 assists, 5 blocked shots and 3 steals against Osmond, 29 points, 10 rebounds, 6 assists, 6 blocked shots and 5 steals vs Elkhorn Valley, and 27 points, 10 rebounds, 4 assists, 6 blocked shots and 1 steal vs Wausa.
Bailey Kraus – West Holt Husky Basketball
Put up 28 points in a monster game against the O'Neill Eagles, leading the team to a 59-52 victory.
1/27/16
Connor and Zac Hazen – Creighton Bulldog Wrestling
Both boys placed 1st at the Neligh Invite in tough weight classes. Connor won the 113 lb class with decisions over Baasch of Amherst and Martinez of Elkhorn Valley. Both were medalists at State last year. Zac beat his first two opponents by pin in under a minute, then finished up the 120 lb weight class with a pin over EV's Steward and a decision over State medalist Breuer of Neligh-Oakdale in the championship. Combined, they contributed 42 points to Creighton's 2nd place finish.
Whitney Rittscher – Clearwater/Orchard Cyclone Basketball
Whitney scored 25 points in a comeback win over Osmond, accounting for almost half of the team's scoring total to add to 6 rebounds, 4 steals and 3 assists. She also led the Cyclones to a 2-0 record on the week with a 10 point, 7 rebound, 4 assist effort against Neligh-Oakdale.
1/20/16
Breydon Mlady – West Holt Husky Wrestling
After finishing 3rd in every meet to this point, Breydon won the 160 pound weight class at the West Holt Invite and scored 27 points to help the Huskies to a 3rd place finish as a team.
Monique and Jaden Schafer – Stuart Bronco Basketball
The twins led Stuart to huge wins over CWC and EPPJ during the week. Monique had 32 points, 14 rebounds, 9 assists and 3 steals and Jaden added 31 points, 11 rebounds, 6 assists and 6 steals during the two games.
1/13/16
Jason Hahlbeck – O'Neill Eagle Wrestling
Won the 1st place medal at the Mid-Dakota Monster and helped O'Neill place 4th as a team, pinning his way through four matches, none of which lasted longer than the 2nd period
Jacie Laetsch – CWC Renegade Basketball
Led CWC to a win over Spalding Academy with 12 points, 7 assists and 5 steals, then scored 30 points (11/12 free throws), 6 rebounds and 3 steals against Class C1 #3 ranked Ord
1/6/16
Tyler Regan – O'Neill Eagle Basketball
Had two solid games to help the Eagles to the Stanton Holiday Tournament championship, scoring 42 pts and grabbing 15 boards (including 26/6 in the title game)
Jodi Fry – Ewing Tiger Basketball
Was a force in the middle during the Cyclone Holiday Tournament, scoring 23 pts and grabbing 18 rebounds, 12 of which were on the offensive glass
12/23/15
Aaron Seger – West Holt Husky Basketball
Had two monster games to lead the Huskies to wins over CWC and Ord, with 19 pts, 16 rebs, 5 blocks and 2 assists vs CWC and 16 pts, 11 rebs, and 2 blocks vs Ord
Dawn Marie Klabenes – CWC Renegade Basketball
Led the team to 3 good wins with 82 pts and 53 rebs (including a 43 pt, 18 reb game) and tied for 7th all time in Nebraska girls history with 26 straight free throws made
12/16/15
Tyson Belitz – Neligh-Oakdale Warrior Basketball
Put up 18 pts, 16 rebs, 6 steals and 4 assists in a Warrior win that included a 3/4 court buzzer beater, also had 20 pts, 7 rebs, 5 assists in another game to help the Warriors to 2 wins
Rebecca Hiatt – Boyd County Spartan Basketball
Led the Spartans in scoring, including a 23 pt, 6 reb performance in a close win against O/C where she went 11/14 from the line to help salt the game away
11/25/15
Cody Ramsey – CWC Renegade Football
Helped lead CWC to a D2 runner-up finish at Memorial Stadium, recording 14 tackles (5 solo, 2 TFL) and serving as the leading blocker on the offensive line
11/18/15
Derik Allen – Clearwater/Orchard Cyclone Football
Was all over on defense with 21 tackles and 2 sacks, also blocked for an offense that rolled up 323 yds and 42 points in a quarterfinal win over tough rival EPPJ
Taylor Colman – St. Mary's Cardinal Volleyball
Consistently directed the Cards' offensive attack at State with 116 assists, while contributing 26 digs, 3 blocks, and 2 aces to the 2nd place D2 finish
11/11/15
Andy Kerkman – Clearwater/Orchard Cyclone Football
Dominated the Plainsmen in the comeback win at Perkins County with 13 catches for 167 yds and 2 TDs, while notching 18 tackles with 2 sacks
Riley Sibbel – St. Mary's Cardinal Volleyball
Helped lead the Cards through a tough week to a district championship and state berth with 43 kills, 39 digs, 4 aces and 5 blocks against 3 top-notch opponents
11/4/15
Mitchell Atkinson – Boyd County Spartan Football
Led Boyd Co. to their first playoff game, recording 6 catches for 135 yds and a TD and helped lead the defense against Burwell
Tami Jo Marcellus – CWC Renegade Volleyball
Helped lead CWC to a 3rd place NVC finish with 42 kills and 60 digs in 3 games, including 20 kills and 25 digs in the 3rd place game
10/28/15
Zach Martin – Clearwater/Orchard Cyclone Football
Led O/C to a win over Neligh with 331 total yds and 4 TDs, including 301 yds & 2 TDs on 25/42 passing, adding 3 tackles and 2 pass breakups on defense
Emily Pongratz – St. Mary's Cardinal Volleyball
Helped SMH to several big wins over good teams in the Axtell Tournament, playing well all over the floor to finish with 17 kills, 9 ace serves and 43 digs
10/21/15
Jon Gettert – O'Neill Eagle Cross Country
Placed 14th at districts with one of his season best time of 18:28, helping the team to a close 2nd place finish to qualify for State XC
Paige Gaughenbaugh – O'Neill Eagle Girls Golf
Finished her career with a 17th place finish at the Class C State Golf Meet, shooting a two day 180
10/14/15
Lane Walton – Creighton Bulldog Football
Was nearly impossible to tackle, toting the rock 11 times for 132 yds and 5 TDs, while playing outstanding defense to help the Dawgs stay undefeated against Howells-Dodge
Sydney Hupp – St. Mary's Cardinal Volleyball
Recorded 34 kills, 13 blocks and 10 digs to help the Cards go 4-0 during a week where they saw some good teams: Stuart, EPPJ, HSF and N/V
10/7/15
Riley Ellwanger – Boyd County Spartan Football
Accounted for 4 TDs, including 3 through the air on 8 of 13 passing for 150 yds, contributed 5 tackles in a close win over O/C
Ashley Guenther – Niobrara/Verdigre Cougar Volleyball
Recorded 17 kills, 5 blocks and 4 ace serves in 5 sets, helping the Cougars to wins over Boyd County and O/C
10/7/15
Blake Johnston – O'Neill Eagle Cross Country
Placed 4th out of 207 runners at the UNK Invite, leading the Eagles with a 17:38 time
Caleigh Miles – O'Neill Eagle Softball
Helped O'Neill to 3rd place in the Mid-State Tournament with great defense and an OBP of near .500 from the leadoff spot, scoring 4 runs
9/30/15
Andrew Fangman – EPPJ Wolfpack Football
Ran the ball 36 times for 164 yds and 5 TDs, recorded 10 tackles to lead EPPJ to a hard fought win over O/C
Abby Gillham – O'Neill Eagle Cross Country
Was 6th place out of 74 good runners at the Boone Central Invite with a time of 20:37, one of her best times on a tough Albion course
9/23/15
Brenden Pelster – CWC Renegade Football
Led CWC to a 28-6 upset win over St. Francis, adding 70 passing yds to 138 yds and 4 TDs rushing, while notching 21 tackles and an INT
Harlee Fischer – Stuart Bronco Volleyball
Recorded 40 kills, 48 digs, 13 ace serves and 4 blocks during a 5-0 week, helping the team to wins over St. Mary's and CWC among others
9/16/15
Daniel Libolt – CWC Renegade Football
Ran for 3 TDs, caught 2 more TDs, accounted for about 150 yds on 15 touches, added 9 tackles (4 TFL) on defense in a win over Boyd County
Jacie Laetsch – CWC Renegade Volleyball
Posted 23 kills and 12 digs in a 5 set thriller against the #1 ranked defending champion St. Mary's
9/9/15
Micah Dexter – Stuart Bronco Football
Led the defense with 18 tackles & added 112 yds and 2 TDs on 14 offensive touches in an OT win over Boyd County
Hailee Harmon – O'Neill Eagle Girls Golf
Shot a 90 for an individual 1st place and birdied the playoff hole to help the team to 1st at O'Neill, placed 2nd at the Ainsworth and Pierce invites