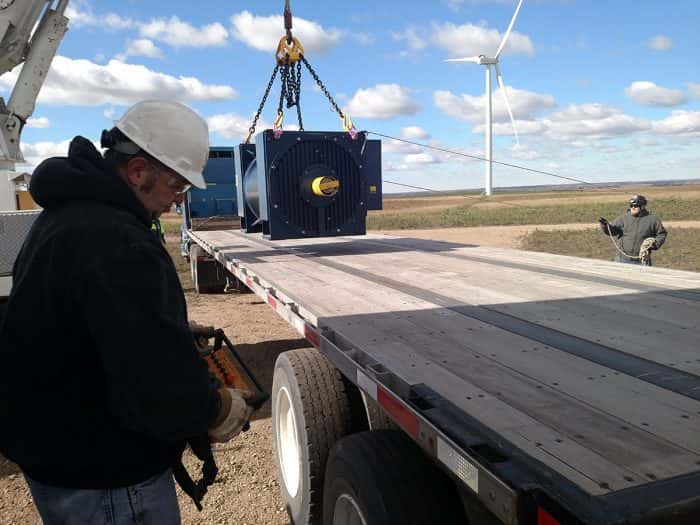 NORFOLK, NE – A decommissioned wind turbine generator has found a new use at Northeast Community College.
Grande Prairie Wind Farm, near O'Neill, donated an out of commission, two-mega-watt wind turbine generator to Northeast's wind energy technology program.
"This is a great addition to the program," said Lyle Kathol, vice president of educational services at Northeast. "It is a piece of a wind generator that was replaced by the company. The generator will enable students to perform hands-on troubleshooting, and it is good to have for practical experience."
The wind energy students also assisted in the transport of the generator with some help from two other Northeast programs. The generator was loaded and transported to Northeast's Norfolk campus in conjunction with the truck driving program using a truck from the utility line program.
Students Trevor Hinds, Davenport, Brandon Jones, Norfolk, and Pat Miles, Grand Island, helped complete the transport along with Ed Lewis, truck driving instructor, and Nathan Simpson, wind energy instructor.
Simpson said Grande Prairie Wind Farm employs approximately 20 technicians, several of which are Northeast graduates.
Wind energy is a rapidly growing industry in Nebraska and throughout the nation. Northeast Community College is the only institution in the state offering an Associate of Applied Science degree specifically in wind energy. Students develop their basic skills with courses in wind energy fundamentals, basic electricity, wind turbine systems and continue with motor controls, mechanical systems and blueprint reading and also learn rigging and climbing safety in and around a wind turbine. Successful graduates are prepared for a position in the wind energy industry.