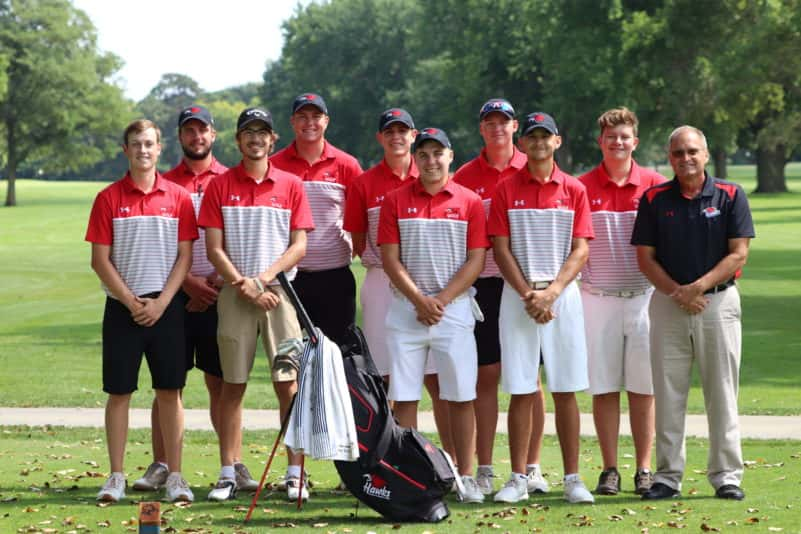 NORFOLK, Neb. – The Northeast Community College men's golf team placed third in the 2019 Region XI Fall Preview, but the Hawks hope to take the next step this spring as a talented group of sophomores will be counted on to lead Northeast to the national tournament in May.
The Hawks' season gets underway today at the Bethany College Spring Invite at the Turkey Creek Golf Course in McPherson, Kan.
"Matthew Kingston (Springfield, Neb.), Grant Sell (Gothenburg, Neb.) and John Lapour (Omaha, Neb.) have been top-5 for my team since their freshman year, so they have the experience and have felt the pressure of playing golf against some of the best junior college players in the nation and have held their own," head coach Kurt Pytleski said.
Kingston, Sell and Lapour had solid outings in the fall at the fall preview in Riverside, Iowa. Sell tied for fourth-place, while Kingston tied for 10th and Lapour finished in the top-20.
"They have set a goal to make the national tournament this year and are putting in the effort to make it happen," Pytleski added. "They saw the success Matthew Schaefer had last year at national and want to get there as a team. Three of my four sophomores have signed or will sign letters of intent in the near future to continue their collegiate golfing careers at four-year colleges. They have all worked hard to improve their games over the past year and I think we will see the results of their commitment this spring."
Sell has already signed with NCAA DI Chicago State University, while a couple other sophomores are waiting to hear back from other schools.
Freshman Ty Heimes (Battle Creek, Neb.) provided a solid spark for the Hawks in the fall after tying for 30th-place at the fall preview. He took first place at the Northeast Triangular in September and third-place at the Midland Oakland Invite.
"I have a nice freshmen class," Pytleski said. "Ty Heimes shot our low round of our fall season with a 69 to win our own invite. He has the ability to play consistently in the low 70's and when his game is on, he can get into the 60's. He is a player I can count on to perform well in every tournament. My other two freshmen, Gabriel Pfeifer (Madison, Neb.) and Jacob Lingenfelter (Plainview, Neb.) work hard at their games and I look forward to watching both players continue to improve over the next few months."
The Hawks continue their season at the Doane Spring Invite on March 29, before competing in the Missouri River Roundup on April 6. They also take on Central Community College in a dual on April 14 and take part in the Midland Spring Invite on April 18. On April 20 they compete in the Southeast Community College Invite, followed by the Region XI tournament on May 1 at the Blue Top Ridge Golf Course in Riverside, Iowa.
The NJCAA DII Men's National Tournament in slated for May 19 at the Twin Hills Country Club in Joplin, Mo.
"we played pretty well in most of our tournaments this past fall," Pytleski said. "We won a couple and placed in a few. We shot as well as I have been the golf coach at Northeast. I expect us to be very competitive in all of our tournaments this spring and hopefully win a few and do well enough in our region tournament to take this team to the national tournament. It should be a fun spring for golf at Northeast.
For all news related to Northeast Community College athletics, visit northeasthawks.com for complete coverage. Fans can also follow the Hawks on Twitter @NortheastHawks for game-day coverage.