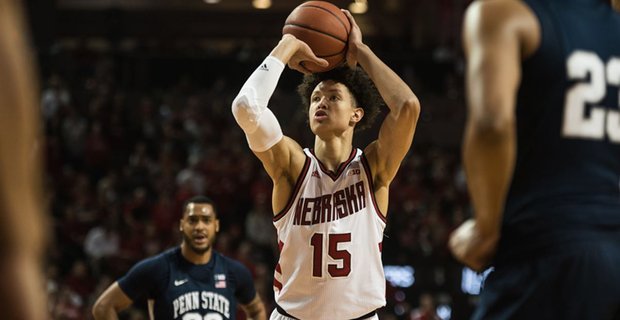 LINCOLN, Neb. (AP) — Isaiah Roby scored like he never had before, but that was just the beginning of what he did for Nebraska in its school-record 20th straight home win.
Roby had a career-high 22 points and season highs of 11 rebounds and four blocks as the Cornhuskers beat Penn State 70-64 Thursday night.
"He was the one guy who had great energy, great body language and was aggressive the whole night through, and you could see it in his line," Nebraska coach Tim Miles said.
The Huskers (12-4, 2-3 Big Ten) bounced back from two straight road losses that knocked them out of the Top 25. The Nittany Lions (7-9, 0-5) lost their third straight.
Nebraska's home win streak is the longest among power-five conference teams and fourth-longest overall. The Huskers broke the school record set by the 1965-66 and 1966-67 teams.
Roby scored six of Nebraska's eight points after Penn State tied it 48-all. The 6-foot-8 forward drove to the basket to give the Huskers the lead, then he ran through a wide-open lane, caught a pass in stride from Isaac Copeland and put down a big dunk. He put back Glynn Watson Jr.'s missed 3-pointer to make it 56-51.
Roby was 8 for 9 from the field, made two 3-pointers, and was 4 for 5 on free throws while playing all but two minutes.
In the final minute he made a steal and blocked a shot to help hold off Penn State, which missed 9 of its final 11 shots.
Roby has had stretches of up-and-down play this season, though his game has steadily improved over the last month.
He and his coaches would love to see more of the prodigious production he had against the Nittany Lions.
"I'm a junior, I should be doing the type of stuff I'm doing now," Roby said.
Watson, who had 19 points and three of the Huskers' nine 3-pointers, made a huge play after Josh Reaves' 3 pulled the Nittany Lions to 62-61.
Watson saved the ball from going out of bounds, gathered himself and shot a 3 that bounced three times off the rim to make it a four-point game with 2:15 left.
Reaves had a season-high 20 points, Mike Watson had 14 rebounds and the Lions held a 46-32 rebounding advantage, including 21-6 on the offensive end.
Penn State coach Patrick Chambers was back on the bench. He was suspended for Sunday's game, a turnover-filled 71-52 loss to Wisconsin, after shoving one of his players during a timeout in a loss at Michigan last week.