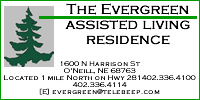 Beautiful Savior Evangelical Lutheran Church 1602 Westwood Ave.- O'Neill 402-336-3017 Sunday- 6:30 PM
St. Joseph's Catholic Church of Amelia
Call 402-482-5422 for Mass updates
Sunday Mass at 11:15 AM
Father Bernard Starman-Pastor
Father Joseph Sund- Associate Pastor
St. Paul Lutheran Church Chambers Call 402-336-2431 for Pastor Ryding Sunday- 10:00 AM Adult Bible Class Sunday- 9:50 AM Sunday School Sunday- 11:00 AM Sunday Divine Worship
Dorsey Community Church 15 miles North of O'Neill on Highway 281 to Stone Windmill,turn East and go 14.5 miles Sunday- 9 AM Worship Service Sunday- 10 AM Sunday School
The O'Neill Wesleyan Church 5th & East John- O'Neill Sunday- 11:00 AM Worship Service
Kingdom Hall of Jenovah's Witnesses 409 W Holt Blvd.- O'Neill 402-336-1668 Sunday 10 AM Educational bible Talk Sunday- 10:50 AM Watchtower Study Tuesday- 7:30 PM Congregational Bible Study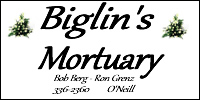 Chambers United Methodist Church 402-482-5646 Sunday- 9:15 AM Worship Service 10:45 AM Bible Study Youth Group 1st & 3rd Wednesday
Our Savior Lutheran Church Bartlett Sunday- 8:30 AM Worship Service
Bethany Presbyterian Church RR. Ewing Sunday- 9 AM Worship Service
Ewing Church of Christ NE & Pine, Ewing Sunday- 10 AM Sunday School Sunday- 11 AM Worship Service Thursday- 7 PM Bible Study First Mondays- 6 PM King's Daughters Meet
Orchard Evangelical Free Church Orchard, NE Sunday- 9:45 AM Sunday School Sunday- 10:45 Worship Service
St. Theresa's Catholic Church 2 Miles South Highway 281- O'Neill Sunday- Sunday & Holy Mass- call 402-336-4703 for time Rosary & confession- 15 minutes before Mass
Inman Community Church Inman Sunday- 10 AM Worship Service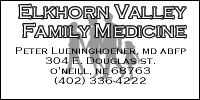 Church of Jesus Christ of Latter Day Saints 130 N. 4th St.- O'Neill 402-336-2167 Sunday- 11 AM Sacrament Service Sunday Noon-1 PM Priesthood & Relief Society
United Methodist Presbyterian Church P.O. Box 236- Ewing Sunday- 8:45 AM Worship Service Sunday- 9:45 AM Sunday School, Coffee Fellowship Following Service
Abundant Grace Assemblies of God 47464 US Hwy 20- Atkinson Parsonage- 402-925-2372 Wednesday- 6:45 PM Bible study & Family Night Sunday- 9:45 AM Sunday School Sunday 10:45 AM Worship Service

Sunday 11 AM Children's Church
Ewing Full Gospel Church Ewing 402-626-7505 biblenut@gpcom.net Sunday- 10 AM Services and Sunday School Sunday- 11 AM Worship Services
Faith Community Church Nondenominational 515 N. 10th St.- O'Neill 402-336-3263 Sunday- 9:15 AM Sunday School Sunday- 10:45 Worship Service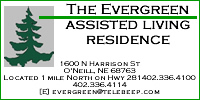 The Episcopal Church of St. Michael & All Angels 225 S. 4th St.- O'Neill 402-925-2263 or 402-925-2453 Saturday- 7 PM Worship
United Methodist Church P.O. Box 100340 Noble Street- Orchard 402-893-9980 e-mail:  ropeparish@frontier.com Sunday- 9:30 AM Adult Sunday School
Sunday- 11:15 AM Worship Service
Coffee fellowship following service
Sunday- 1st and 3rd Sunday's , ROPE Parish Youth Fellowship in Orchard


UMW meets the 3rd Tuesday of the month at 2 PM
Seventh-Day Adventist Church Lynch Sunday- 9:30 AM Worship Service with Sabbath School to follow
First United Methodist Church 404 West Cedar Street- O'Neill 402-336-1883 e-mail:  oneillumc@q.com Sunday- 9:15 AM Adult Sunday School Class Sunday- 9:30 AM Children's Sunday School


Sunday- 10:45 AM Sunday Services
St. Paul's Lutheran Venus Sunday- 8 AM Services Sunday- 9:30 AM Worship Services
Gateway to Glory Ministries 209 W Douglas- O'Neill 402-775-2273 or 402-394-1096 or 402-394-1097 glorytrain@nntc.net Saturday- 6:30 PM Service
First Christian Church 505 E Williams St., O'Neill

Sunday:9:00 a.m. Quiet time for prayer; 9:30 a.m. Sunday School; 10:30 a.m. Worship service (Children's Church and nursery church available)
Wednesday: Prime Timers Bible Study 10:00 AM; Bible Study will be meeting on select Wednesdays. No meal provided. Adult and Grade school Bible studies 6-7 PM and Jr./Sr. High school 7-8:30 PM on May 22nd, June 5th, July 3rd, August 7th, 14th, 21st and 28th.

RUSH youth group starts again in the fall.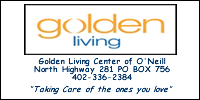 Word of Life Christian Church  1 mile North of Highway 281- O'Neill 402-336-1535 or 402-336-3296 Sunday- 9 AM Morning Prayer Warriors Sunday- 9:30 AM Sunday School

Sunday- 10:45 AM Morning Worship

Sunday- 6:30 PM Youth Group

Sunday- 7:15 PM Evening Praise & Worship

Wednesday- 7:00 PM Royal Rangers, Missionettes, Adult Bible Study
First Presbyterian Church 204 E Everett- O'Neill 402-336-2590 Sunday- 10:30 AM Coffee fellowship Sunday- 11 AM Worship
St. Patrick's Catholic Church
4th & Benton St.- O'Neill 402-336-1602
Saturday- 6 PM Mass
Sunday- 8 AM & 9:30 AM Mass
Reconciliation- Saturday at 4:30 PM
Father Bernard Starman-Pastor
Father Joseph Sund- Associate Pastor
http://www.stpatoneill.org/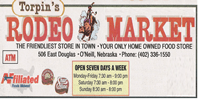 O'Neill Assembly of God 204 N 7th St.- O'Neill 402-336-2272 or 402-336-3270 Sunday- 9:30 AM Sunday School for all ages Sunday- 10:30 AM Morning Worship & Praise Sunday- 7 PM Evening Praise & Worship

Wednesday- 7 PM Boys & Girls Club & Adult Bible Study
Christ Lutheran Church 129 North 7th- O'Neill 402-336-1884 Sunday- 9 AM Worship Sunday- 10:15 AM Sunday School Sunday Evening Worship at 7:00 PM

Wednesday- Christ Light at 6:30 PM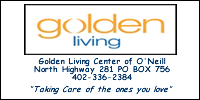 Atkinson Presbyterian Church 508 E. 5th Street- Atkinson Wednesday- Church School, 6 PM-7:30 PM Sunday- 11 AM Worship
St. John's Lutheran Church 801 N Main Street- Atkinson Sunday- 11 AM  Worship Service No Sunday School during the summer.  Atkinson/Stuart Food Pantry will be open first Mondays of the month from 2-5:30 pm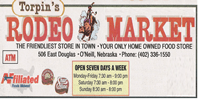 Stuart Community Church 106 E 3rd St- Stuart Sunday- 9:30 AM Worship Wednesday- Church School, 6 PM- 7:30 PM
St. Peter's Lutheran Church Bassett 11 AM- Worship Service 10 AM- Fellowship
Stuart St. Boniface Catholic Church Saturday- 7 PM mass Sunday- 10:30 AM Mass Call the Rectory for definite times at 402-925-2122
Immanual Lutheran Church Spencer Sunday- 10:45 AM Worship
Christ Lutheran Church of Lynch Lynch Sunday- 9 AM Worship Service
Faith Wesleyan Church Atkinson Sunday 10 AM www.faithwesleyan.org
Verdigre Methodist Church Sunday- 10:45 AM Sunday School & Worship Service Sunday- 9:45 Adult Sunday School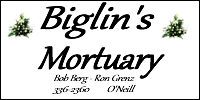 Atkinson Immanuel Lutheran Church Sunday-11AM Worship Service
Bartlett Our Savior Lutheran Church Sunday- 8:30 AM Worship Service
Bassett St. Mary's Episcopal Church Sunday- 9:30 AM Sunday School Sunday- 10 AM Worship Service
Bristow Trinity Lutheran Church Sunday- 9:30 AM Sunday School Sunday- 10:30 am worship Service
Butte Immanuel Lutheran Church Sunday- 8:30 AM Worship Service
Our Savior's Lutheran Church Spencer 402-589-9086 Sunday- 10:00 AM Adult Sunday School Sunday- 9 AM Sunday Morning Worship Vicar Glen Stahlecker
Sacred Heart Parish of Boyd County Churches in Butte, Spencer & Lynch, NE
Rev. Doug Scheinost Butte, NE 402-775-2452
Office 402-775-0067
Hours:  M-Th 8:00 AM- 4:30 PM
Weekend Mass Times
7:00 PM Saturday at Sts. Peter & Paul in Butte
9:30 AM Sunday at St. Mary in Spencer
Assumption BVM in Lynch- Temporarily Closed for Repairs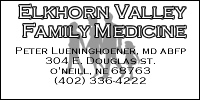 St. Wenceslaus Church- Verdigre, NE
Confessions: 4:15- 4:45 PM Saturday or by appointment Saturday- 5 PM Mass
No Sunday Mass until Memorial Day weekend
Father Kizito Okhuoya

St. Andrew Church- Bloomfield
Confessions 11:30-noon after Mass
Mass Sunday 10:30 AM
Father Kizito Okhuoya
St. William's Church- Niobrara, NE
Confessions:  8:00 AM Sunday
Mass Sundays 8:30 AM until the Memorial Day weekend
No Saturday Mass until Memorial Day weekend
Father Kizito Okhuoya
Butte Community Bible Church Pastor Gary Binder 402-775-2307 P.O. Box 256- Butte Sunday School: 9:30 AM Sunday- 10:45 AM Service

Wednesday- 4 PM Awanas
Atkinson United Methodist Church 210 S Williams- Atkinson 402-925-2636 Sunday schedule is: Church time is 8:00 AM
Page United Methodist Church 110 E Main St.-Page 402.338.5505 Rev. Stuart Davis Pastor  Sunday Schedule is:Sunday School 10:00 am

Worship 11:15 am

Evening Services at alternating Hope Parish locations 6:30pm
Memorial Baptist Church Chambers, NE 402.482.5541 Joe Bockerman Pastor Sunday Schedule is:Sunday School 9:00 am

Worship 10:00 am

Wednesday evening kids bible club 7:00pm
Our Savior Lutheran Church Bartlett, NE 308.654.3349 Vicar Jim Haynes Sunday Schedule is: Worship 8:30am