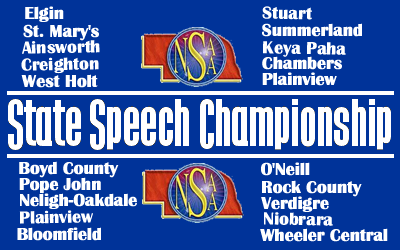 The 2023 NSAA State Speech Meet will be held Wednesday through Friday, March 15, 16 & 17 at Kearney High School in Kearney.
The KBRX area will have 110 area students competing.  Stuart has the most students participating with 17 competing in 19 events, Pope John has 14 students competing in 12 events and St. Mary's will send 9 students competing in 11 events.
Classes A & B will compete on March 15, Classes C1 & C2 on March 16 and Classes D1 & D2 on March 17th.
Here are the State Qualifiers from the KBRX area:
CLASS B (Compete on Wednesday, March 15)
O'Neill
Oral Interpretation of Drama – Annie Corkle, Hana Miller, Mallorie Scott, Reagan Roessler and Winnie Huber
Oral Interpretation of Poetry – Reagan Roessler
CLASS C1 (Compete on Thursday, March 16)
West Holt
Extemporaneous – Carter Gotschall
Persuasive Speaking – Lily Vogel
CLASS C2 (Compete on Thursday, March 16)
Summerland
Informative Speaking – Faith King
Oral Interpretation of Serious Prose – Olga Mendoza
Persuasive Speaking – Adrienne Parker
Boyd County
Duet Acting – Brooklyn Eckert and Brynn Almgren
Ainsworth
Duet Acting – Dakota Stutzman and Taylor Allen
Oral Interpretation of Serious Prose – Taylor Allen
Plainview
Entertainment Speaking – Claire Rasmussen
Informative Speaking – Lauren Jelinek
Informative Speaking – Paige Norris
Oral Interpretation of Drama– Brendan Weber, Brett Norris, Jacson King, Karter Lingenfelter and Leighton Medina
Oral Interpretation of Drama – Claire Rasmussen, Harrison Thor, JayJay Gaver, Paige Norris and Rece Frahm
Oral Interpretation of Humorous Prose – Leighton Medina
Oral Interpretation of Humorous Prose – Brett Norris
Oral Interpretation of Poetry – Marque Albin
Persuasive Speaking – Abbie Kromarek
Persuasive Speaking – Reagan Choat
Program Oral Interpretation – Jordynn Frahm
Program Oral Interpretation – Marque Albin
Bloomfield
Extemporaneous Speaking – Blake Byerly
CLASS D1 (Compete on Friday, March 17)
Elgin Public
Duet Acting – Brenna Martinsen and William Heilhecker
Oral Interpretation of Drama – Baylee Busteed, Brenna Martinsen, Callie Heithoff, Chloe Henn and Samantha Durre
Program of Oral Interpretation – Corbin Kinney
Creighton
Entertainment Speaking – Olivia Kuhlman
Extemporaneous Speaking – Taylor Nilson
Informative Speaking – Mia Dartman
Oral Interpretation of Drama – Creighton – Ben Johnson, Brooke Fanta, Olivia Kuhlman, Peyton Zimmerer and Taylor Nilson
Oral Interpretation of Humorous Prose – Ben Johnson
Oral Interpretation of Poetry – Kayla Key
Oral Interpretation of Poetry – Jordyn Coutts
Oral Interpretation of Serious Prose – Samantha Durre
Persuasive Speaking – Mia Dartman
Neligh-Oakdale
Extemporaneous Speaking – Leonard Luna
Extemporaneous Speaking – Mallory Belitz
Oral Interpretation of Humorous Prose – Graysen Sauser
Rock County
Persuasive Speaking – Kyra Anthony
CLASS D2 (Compete on Friday, March 17)
St. Mary's
Duet Acting – Delaney Wohlert and Emma Winkelbauer
Duet Acting – Emma Otte and Kaylin Gaughenbaugh
Entertainment Speaking – Kaylin Gaughenbaugh
Entertainment Speaking –  Caity Ruzicka
Extemporaneous Speaking – Emma Winkelbauer
Informative Speaking – Delaney Wohlert
Oral Interpretation of Drama –Caitey Ruzicka, Ellie Atkeson, Emma Otte, Emma Winkelbauer and Kaylin Gaughenbaugh
Oral Interpretation of Serious Prose – Elle Atkeson
Oral Interpretation of Serious Prose – LaShanna Werth
Persuasive Speaking – Lauren Winkelbauer
Program Oral Interpretation – Addy Shald
Chambers
Duet Acting – Claire Woeppel and Wyatt Ehlers
Duet Acting – Brianna Klabenes and Savannah Hansen
Entertainment Speaking – Wyatt Ehlers
Extemporaneous Speaking – Hannah Scott
Informative Speaking – Hannah Scott
Oral Interpretation of Humorous Prose –Wyatt Ehlers
Oral Interpretation of Poetry – Lilly Hoerle
Oral Interpretation of Serious Prose – Claire Woeppel
Persuasive Speaking – Hannah Scott
Program of Oral Interpretation – Claire Woeppel
Program of Oral Interpretation – Lilly Hoerle
Stuart
Duet Acting – Cameron Kaup & Drew Schmaderer
Entertainment Speaking – William Paxton
Entertainment Speaking – Maddux Alder
Extemporaneous Speaking – William Paxton
Extemporaneous Speaking – Dawon Heiser
Informative Speaking – Chiana Tubbs
Informative Speaking – Addisyn Ketteler
Oral Interpretation of Drama – Benjamin Paxton, Hunter Tubbs, Lacey Paxton & Sydney Estill
Oral Interpretation of Drama – Cameron Kaup, Elly Steinhauser, Gavynn Mustin, Megan Karo & Savannah Kramer
Oral Interpretation of Humorous Prose –  Benjamin Paxton,
Oral Interpretation of Humorous Prose – Hunter Tubbs
Oral Interpretation of Poetry – Lacey Paxton
Oral Interpretation of Poetry – Savannah Kramer
Oral Interpretation of Serious Prose – Sydney Estill
Oral Interpretation of Serious Prose – Drew Schmaderer
Persuasive Speaking – Chiana Tubbs
Persuasive Speaking – Andrew Yemma
Program Oral Interpretation – William Paxton
Program Oral Interpretation – Elly Steinhauser
Niobrara
Oral Interpretation of Drama – Chloe Hanzlik, Harley Stark, Mya Chohon, Olivia Holz and Taylen Stark
Pope John
Entertainment Speaking – Matthew Dilly
Extemporaneous Speaking – Linus Borer
Informative Speaking – Linus Borer
Oral Interpretation of Drama – Aiden Klein, Cale Kinney, Jack Barlow, Linus Borer and Matthew Dilly
Oral Interpretation of Drama – Ashlynne Charf, Brooklyn Meis, Emma Lea Ruterbories, Kaitey Schumacher and Skyler Meis
Oral Interpretation of Humorous Prose – Jack Barlow
Oral Interpretation of Poetry – Jovie Vaisvilas
Oral Interpretation of Serious Prose – Reese Stuhr
Oral Interpretation of Serious Prose – Emma Lea Ruterbories
Persuasive Speaking – Eliza Borer
Persuasive SPeaking – Olivia Klein
Program of Oral Interpretation – Skyler Meis
Verdigre
Duet Acting – Cody Wickersham & Isaac Pavlik
Wheeler Central
Duet Acting – Haley Borwege & Jayna Guggenmos
Oral Interpretation of Drama  – Bobbi Guggenmos, Braelynn Schlenger, Haley Borwege, Jayna Guggenmos & Madayla McCain
Program Oral Interpretation – Braelynn Schlenger
Keya Paha
Informative Speaking – Ally Wenger
Oral Interpretation of Humorous Prose – Elijah Clay
Oral Interpretation of Poetry – Elijah Clay