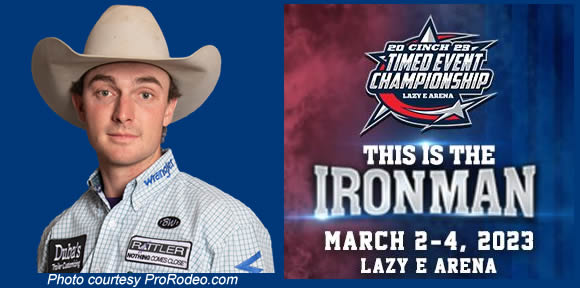 Riley Wakefield of O'Neill is sitting in 2nd place in the Cinch Timed Event Championships at Lazy E Arena in Guthrie, Oklahoma with one round left.  The final round is tonight, Saturday, March 4, 2023, at 7 pm.
In the 4th round Saturday afternoon Wakefield finished in 10th place with a total time of 77.5 seconds in the 5 events.  Jess Tierney won the 4th round with an impressive time of 50.0 seconds.
Riley had led the average going into the 4th round but with a 10th place finish in the 4th round dropped to second place. Cody Doescher leads the average now with a total time of 250.3 seconds and Riley is in the number 2 spot with a total time of 257.5 seconds.  It's a close three-way race as Russell Cardoza is in third at 259.3 seconds.
Anything could happen in the final round tonight and Riley Wakefield has his sights set on winning it all and the 1st place prize of $100,000.  The payouts tonight in the average are:
$100,000
• $25,000
• $15,000
• $10,000
• $7,500
• $5,000
• $4,500
• $3,000
The 5th and final round will be tonight, Saturday, March 4 at 7 pm and will be shown at HandleBend Tap in downtown O'Neill.  Everyone is welcome to come down and watch. You can also watch by following this link https://roping.com/categories/Cinch-Timed-Event-Championship
Here are the average standings going into the 5th & final round:
Aggregate After Round Four Advancing to Round Five
(on twenty head)
Cody Doescher 250.3 seconds
Riley Wakefield 257.5 seconds
Russell Cardoza 259.3 seconds
Nelson Wyatt 284.5 seconds
Lane Karney 293.1 seconds
Paul David Tierney 303.7 seconds
KC Jones 304.0 seconds
Erich Rogers 319.0 seconds
Marcus Theriot 319.2 seconds
Clayton Hass 320.5 seconds
Kyle Lockett 334.2 seconds
Jess Tierney 339.4 seconds
Colby Lovell 339.7 seconds
Justin Thigpen 341.3 seconds
Seth Hall 342.5 seconds