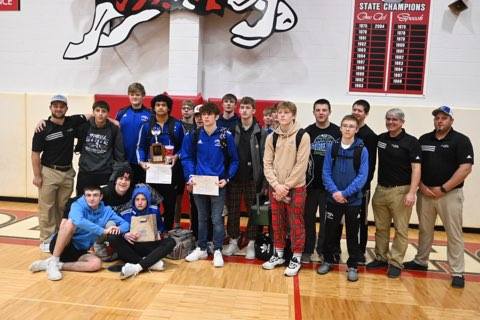 O'Neill – The O'Neill Eagles Wrestling team finished as the Mid-State Conference Runner-up on Saturday, January 21st!
Norfolk Catholic High School was the host school for the Mid-State Conference Wrestling Tournament this year. The schools representing the Mid-State Conference were O'Neill, Battle Creek, Wayne, Pierce, Boone Central/Newman Grove, Crofton-Bloomfield, GACC, Norfolk Catholic, and Hartington CC.
Winning the Mid-State Conference crown was the Battle Creek as they finished with 192 total points. Leading the way for Battle Creek was Ryan Stusse Jr. (106), Ayden Wintz (113), and Brek Thompson (182) as they earned individual honors as Conference Champions in their weight class. Battle Creek had 12 total medalists at the Conference Tournament.
Earning the Conference Runner-up title was O'Neill as the Eagles finished with 163 points. The Eagles had four wrestlers finish as individual Conference Champions as John Alden (126), Joe Yates (132), Pryor Mathews (138), and Salvador Rodriguez (195)  earned gold place medals. The Eagles had 7 total medalists as John Alden (126), Joe Yates (132), Pryor Mathews (138), Oliver Schluns (145), Tony Miller (160), Salvador Rodriguez (195), and Tucker Shabram (285) all finished in the top 4 individually!
The O'Neill Lady Eagles also competed at the Mid-State Conference Tournament in Norfolk as they finished with 64 points which placed them in 6th.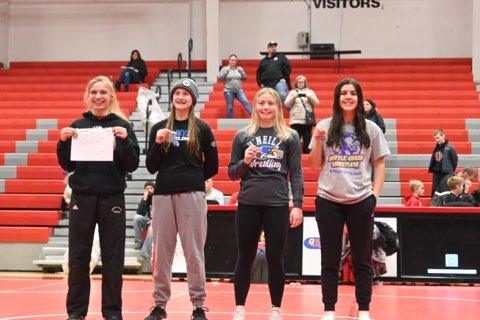 Madalynn Kellum of O'Neill (3rd Place)
Leading the Lady Eagles was Maddy Jakubowski (170) as she earned a conference championship individually for O'Neill. Paola Vergara continued her strong season as she earned a runner-up finish at 155! The Lady Eagles placed 6 total wrestlers in the top 4 as Mollie Corkle (100), Cyrise Brown (100), Madalynn Kellum (130), and Ava Chohon (140) also medaled for O'Neill!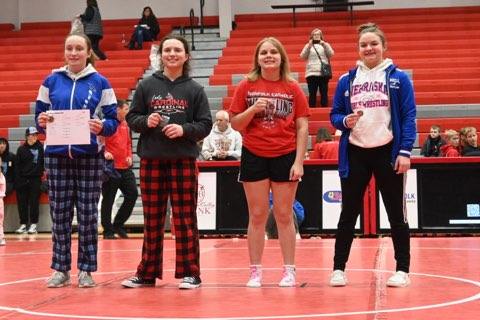 Ava Chohon of O'Neill (4th Place)
Up next for the O'Neill Wrestling team will be the Boone Central Invite from Albion on Saturday, January 28th!
You can find the complete results from the Mid-State Conference Tournament below.
Mid-State Conference Tournament
106
Guaranteed Places
1st Place – Ryan Stusse Jr. of Battle Creek
2nd Place – Maverick Heine of Cedar Catholic
3rd Place – Zakary Abler of Pierce
4th Place – Zachary Foecking of Norfolk Catholic
Round 1
Ryan Stusse Jr. (Battle Creek) 27-3, So. over Zachary Foecking (Norfolk Catholic) 5-17, Fr. (Fall 1:11)
Maverick Heine (Cedar Catholic) 24-5, Fr. over Zakary Abler (Pierce) 10-7, Jr. (Fall 1:41)
Round 2
Ryan Stusse Jr. (Battle Creek) 27-3, So. over Zakary Abler (Pierce) 10-7, Jr. (Fall 1:44)
Maverick Heine (Cedar Catholic) 24-5, Fr. over Zachary Foecking (Norfolk Catholic) 5-17, Fr. (TF-1.5 1:55 (15-0))
Round 3
Ryan Stusse Jr. (Battle Creek) 27-3, So. over Maverick Heine (Cedar Catholic) 24-5, Fr. (Fall 5:40)
Zakary Abler (Pierce) 10-7, Jr. over Zachary Foecking (Norfolk Catholic) 5-17, Fr. (MD 11-0)
113
Guaranteed Places
1st Place – Ayden Wintz of Battle Creek
2nd Place – Will Leseberg of Wayne
3rd Place – Keegan Carl of Cedar Catholic
4th Place – Gavin Mauch of Boone Central
1st Place Match
Ayden Wintz (Battle Creek) 19-1, So. over Will Leseberg (Wayne) 13-9, So. (Fall 1:02)
3rd Place Match
Keegan Carl (Cedar Catholic) 8-5, Sr. over Gavin Mauch (Boone Central) 17-19, Fr. (MD 12-4)
120
Guaranteed Places
1st Place – Robbie Fisher of Crofton/Bloomfield
2nd Place – Garrett Schultz of Wayne
3rd Place – Omar Contreras of Norfolk Catholic
4th Place – Draydin Gossman of Pierce
1st Place Match
Robbie Fisher (Crofton/Bloomfield) 31-1, Jr. over Garrett Schultz (Wayne) 20-6, Jr. (Fall 5:17)
3rd Place Match
Omar Contreras (Norfolk Catholic) 16-13, Fr. over Draydin Gossman (Pierce) 16-13, Fr. (Dec 16-11)
126
Guaranteed Places
1st Place – John Alden of O`Neill
2nd Place – Carson Wood of Boone Central
3rd Place – Jaxson Hassler of Battle Creek
4th Place – Noah Brichacek of Guardian Angels Central Catholic
1st Place Match
John Alden (O`Neill) 26-1, Jr. over Carson Wood (Boone Central) 22-2, Jr. (Dec 5-0)
3rd Place Match
Jaxson Hassler (Battle Creek) 16-7, Sr. over Noah Brichacek (Guardian Angels Central Catholic) 22-8, So. (Dec 9-6)
132
Guaranteed Places
1st Place – Joseph Yates of O`Neill
2nd Place – Brenden Bolling of Pierce
3rd Place – Braeden Kleinschmit of Cedar Catholic
4th Place – Alex Frank of Wayne
1st Place Match
Joseph Yates (O`Neill) 20-5, Sr. over Brenden Bolling (Pierce) 15-7, Fr. (Dec 11-4)
3rd Place Match
Braeden Kleinschmit (Cedar Catholic) 27-6, So. over Alex Frank (Wayne) 16-13, Jr. (Fall 2:39)
138
Guaranteed Places
1st Place – Pryor Mathews of O`Neill
2nd Place – Braeden Guenther of Crofton/Bloomfield
3rd Place – Brady Hochstein of Cedar Catholic
4th Place – Grant Maas of Wayne
1st Place Match
Pryor Mathews (O`Neill) 19-9, So. over Braeden Guenther (Crofton/Bloomfield) 31-8, So. (Dec 4-0)
3rd Place Match
Brady Hochstein (Cedar Catholic) 23-7, Fr. over Grant Maas (Wayne) 16-16, Fr. (Dec 6-0)
145
Guaranteed Places
1st Place – Ashton Munsell of Wayne
2nd Place – Jaxon Schafer of Boone Central
3rd Place – Hudson Last of Battle Creek
4th Place – Oliver Schluns of O`Neill
1st Place Match
Ashton Munsell (Wayne) 33-3, Sr. over Jaxon Schafer (Boone Central) 23-7, Sr. (Dec 8-4)
3rd Place Match
Hudson Last (Battle Creek) 23-11, So. over Oliver Schluns (O`Neill) 19-10, Jr. (Fall 3:57)
152
Guaranteed Places
1st Place – Jayden Coulter of Pierce
2nd Place – Samuel Grape of Boone Central
3rd Place – Conner Neuhalfen of Battle Creek
4th Place – Cayden Cox of Pierce
1st Place Match
Jayden Coulter (Pierce) 31-1, Sr. over Samuel Grape (Boone Central) 26-9, Sr. (Fall 2:52)
3rd Place Match
Conner Neuhalfen (Battle Creek) 24-12, So. over Cayden Cox (Pierce) 12-14, Fr. (Fall 1:45)
160
Guaranteed Places
1st Place – Wyatt Tramp of Crofton/Bloomfield
2nd Place – Casey Schnebel of Battle Creek
3rd Place – Kale Korth of Cedar Catholic
4th Place – Anthony Miller of O`Neill
1st Place Match
Wyatt Tramp (Crofton/Bloomfield) 17-4, So. over Casey Schnebel (Battle Creek) 24-13, Fr. (Dec 7-6)
3rd Place Match
Kale Korth (Cedar Catholic) 22-13, Jr. over Anthony Miller (O`Neill) 11-13, Jr. (MD 19-11)
170
Guaranteed Places
1st Place – Blake Bolling of Pierce
2nd Place – Cole Bensen of Cedar Catholic
3rd Place – Wyatt Nierodzik of Battle Creek
4th Place – Colton Ray of Boone Central
1st Place Match
Blake Bolling (Pierce) 28-1, Sr. over Cole Bensen (Cedar Catholic) 23-10, So. (Fall 1:51)
3rd Place Match
Wyatt Nierodzik (Battle Creek) 10-9, So. over Colton Ray (Boone Central) 25-15, Sr. (Dec 3-2)
182
Guaranteed Places
1st Place – Brek Thompson of Battle Creek
2nd Place – Casey Jeannoutot of Crofton/Bloomfield
3rd Place – Weston Heine of Cedar Catholic
4th Place – Kaiden Fritz of Pierce
1st Place Match
Brek Thompson (Battle Creek) 25-9, So. over Casey Jeannoutot (Crofton/Bloomfield) 10-7, Jr. (Fall 4:59)
3rd Place Match
Weston Heine (Cedar Catholic) 16-12, Sr. over Kaiden Fritz (Pierce) 15-17, Fr. (Fall 4:49)
195
Guaranteed Places
1st Place – Salvador Rodriguez of O`Neill
2nd Place – James Rolf of Guardian Angels Central Catholic
3rd Place – Thomas Roberts of Boone Central
4th Place – Dahkota Zlomke of Battle Creek
1st Place Match
Salvador Rodriguez (O`Neill) 21-4, Sr. over James Rolf (Guardian Angels Central Catholic) 24-4, Sr. (Dec 6-2)
3rd Place Match
Thomas Roberts (Boone Central) 26-10, So. over Dahkota Zlomke (Battle Creek) 18-13, So. (SV-1 3-1)
220
Guaranteed Places
1st Place – Hank Hudson of Boone Central
2nd Place – Ty Tramp of Crofton/Bloomfield
3rd Place – Connor Heiderman of Battle Creek
4th Place – Boston Krueger of Pierce
1st Place Match
Hank Hudson (Boone Central) 28-3, Jr. over Ty Tramp (Crofton/Bloomfield) 23-9, Sr. (Fall 3:02)
3rd Place Match
Connor Heiderman (Battle Creek) 15-11, Fr. over Boston Krueger (Pierce) 10-20, Fr. (Dec 5-3)
285
Guaranteed Places
1st Place – Dawson Raabe of Pierce
2nd Place – Elijah Hintz of Battle Creek
3rd Place – Tucker Shabram of O`Neill
4th Place – Mason Planer of Battle Creek
1st Place Match
Dawson Raabe (Pierce) 17-5, Sr. over Elijah Hintz (Battle Creek) 28-4, Sr. (Dec 1-0)
3rd Place Match
Tucker Shabram (O`Neill) 19-11, Jr. over Mason Planer (Battle Creek) 17-10, So. (Fall 0:58)
100G
Guaranteed Places
1st Place – Ashlynn Guthard of Boone Central Girls
2nd Place – Icis Sackville of Pierce Girls
3rd Place – Mollie Corkle of ONeill Girls
4th Place – Cyrise Brown of ONeill Girls
Round 1
Cyrise Brown (ONeill Girls) 10-14, Fr. over Icis Sackville (Pierce Girls) 19-8, Jr. (Fall 1:47)
Ashlynn Guthard (Boone Central Girls) 19-7, Fr. over Mollie Corkle (ONeill Girls) 12-15, Fr. (Fall 5:21)
Round 2
Icis Sackville (Pierce Girls) 19-8, Jr. over Mollie Corkle (ONeill Girls) 12-15, Fr. (Fall 0:43)
Ashlynn Guthard (Boone Central Girls) 19-7, Fr. over Cyrise Brown (ONeill Girls) 10-14, Fr. (Fall 3:01)
Round 3
Ashlynn Guthard (Boone Central Girls) 19-7, Fr. over Icis Sackville (Pierce Girls) 19-8, Jr. (Fall 2:45)
Mollie Corkle (ONeill Girls) 12-15, Fr. over Cyrise Brown (ONeill Girls) 10-14, Fr. (Fall 1:12)
105G
Guaranteed Places
1st Place – Afftynn Stusse of Battle Creek Girls
2nd Place – Cadence Wood of Boone Central Girls
3rd Place – Mia Sackville of Pierce Girls
Round 1
Cadence Wood (Boone Central Girls) 18-7, Fr. over Mia Sackville (Pierce Girls) 11-13, So. (Fall 0:51)
Round 2
Afftynn Stusse (Battle Creek Girls) 31-0, Sr. over Mia Sackville (Pierce Girls) 11-13, So. (Fall 1:19)
Round 3
Afftynn Stusse (Battle Creek Girls) 31-0, Sr. over Cadence Wood (Boone Central Girls) 18-7, Fr. (Fall 0:41)
110G
Guaranteed Places
1st Place – Ella Reeves of Battle Creek Girls
2nd Place – Mishayla Slaymaker of Boone Central Girls
1st Place Match
Ella Reeves (Battle Creek Girls) 27-2, So. over Mishayla Slaymaker (Boone Central Girls) 14-10, Fr. (Fall 0:26)
115G
Guaranteed Places
1st Place – Leynn Luna of Boone Central Girls
2nd Place – Jayan Sackville of Pierce Girls
3rd Place – Pamela Dennis of Crofton-Bloomfield Girls
4th Place – Ryleey Schulte of Battle Creek Girls
5th Place – Hannah Burris of Wayne Girls
Round 1
Jayan Sackville (Pierce Girls) 13-11, Fr. over Pamela Dennis (Crofton-Bloomfield Girls) 12-14, Fr. (Fall 1:17)
Ryleey Schulte (Battle Creek Girls) 8-11, So. over Hannah Burris (Wayne Girls) 1-17, Fr. (Fall 0:41)
Round 2
Leynn Luna (Boone Central Girls) 25-5, Fr. over Hannah Burris (Wayne Girls) 1-17, Fr. (Fall 0:56)
Pamela Dennis (Crofton-Bloomfield Girls) 12-14, Fr. over Ryleey Schulte (Battle Creek Girls) 8-11, So. (Fall 1:59)
Round 3
Leynn Luna (Boone Central Girls) 25-5, Fr. over Ryleey Schulte (Battle Creek Girls) 8-11, So. (Fall 2:31)
Jayan Sackville (Pierce Girls) 13-11, Fr. over Hannah Burris (Wayne Girls) 1-17, Fr. (Fall 1:18)
Round 4
Leynn Luna (Boone Central Girls) 25-5, Fr. over Jayan Sackville (Pierce Girls) 13-11, Fr. (Fall 1:19)
Pamela Dennis (Crofton-Bloomfield Girls) 12-14, Fr. over Hannah Burris (Wayne Girls) 1-17, Fr. (Fall 0:28)
Round 5
Leynn Luna (Boone Central Girls) 25-5, Fr. over Pamela Dennis (Crofton-Bloomfield Girls) 12-14, Fr. (Fall 1:18)
Jayan Sackville (Pierce Girls) 13-11, Fr. over Ryleey Schulte (Battle Creek Girls) 8-11, So. (Fall 1:12)
120G
Guaranteed Places
1st Place – Kaylee Miller of Boone Central Girls
2nd Place – Isabelle Skrdla of Pierce Girls
3rd Place – Macy Wilson of Wayne Girls
4th Place – Chloe Wattier of Battle Creek Girls
5th Place – Jacey Hassler of Battle Creek Girls
Round 1
Kaylee Miller (Boone Central Girls) 13-10, So. over Chloe Wattier (Battle Creek Girls) 7-17, Fr. (Fall 1:16)
Macy Wilson (Wayne Girls) 7-14, Fr. over Jacey Hassler (Battle Creek Girls) 3-21, Fr. (Fall 1:55)
Round 2
Isabelle Skrdla (Pierce Girls) 29-9, Sr. over Jacey Hassler (Battle Creek Girls) 3-21, Fr. (Fall 0:00)
Kaylee Miller (Boone Central Girls) 13-10, So. over Macy Wilson (Wayne Girls) 7-14, Fr. (Fall 0:00)
Round 3
Isabelle Skrdla (Pierce Girls) 29-9, Sr. over Macy Wilson (Wayne Girls) 7-14, Fr. (Fall 0:24)
Chloe Wattier (Battle Creek Girls) 7-17, Fr. over Jacey Hassler (Battle Creek Girls) 3-21, Fr. (Fall 1:18)
Round 4
Isabelle Skrdla (Pierce Girls) 29-9, Sr. over Chloe Wattier (Battle Creek Girls) 7-17, Fr. (Fall 0:56)
Kaylee Miller (Boone Central Girls) 13-10, So. over Jacey Hassler (Battle Creek Girls) 3-21, Fr. (Fall 0:19)
Round 5
Kaylee Miller (Boone Central Girls) 13-10, So. over Isabelle Skrdla (Pierce Girls) 29-9, Sr. (Fall 0:51)
Macy Wilson (Wayne Girls) 7-14, Fr. over Chloe Wattier (Battle Creek Girls) 7-17, Fr. (Fall 1:52)
125G
Guaranteed Places
1st Place – Jaycee Bruns of Wayne Girls
2nd Place – Savannah Beutler of Pierce Girls
3rd Place – Ruby Knull of Battle Creek Girls
4th Place – Alee Luna of Boone Central Girls
1st Place Match
Jaycee Bruns (Wayne Girls) 27-3, Sr. over Savannah Beutler (Pierce Girls) 18-10, Fr. (Fall 2:30)
3rd Place Match
Ruby Knull (Battle Creek Girls) 11-14, So. over Alee Luna (Boone Central Girls) 12-15, So. (Fall 0:29)
130G
Guaranteed Places
1st Place – Jordan Aschoff of Norfolk Catholic Girls
2nd Place – Nyla Bolles of Wayne Girls
3rd Place – Madalynn Kellum of ONeill Girls
4th Place – Keira Hestekind of Battle Creek Girls
1st Place Match
Jordan Aschoff (Norfolk Catholic Girls) 23-6, Jr. over Nyla Bolles (Wayne Girls) 19-11, Fr. (Fall 3:52)
3rd Place Match
Madalynn Kellum (ONeill Girls) 15-14, Fr. over Keira Hestekind (Battle Creek Girls) 5-3, So. (Fall 0:37)
135G
Guaranteed Places
1st Place – Haylee Miller of Pierce Girls
2nd Place – Cecilia Kann of Norfolk Catholic Girls
3rd Place – Lilly Mefford of Battle Creek Girls
4th Place – Serenity Heil-Ellis of Wayne Girls
5th Place – Autumn Scheffler of Boone Central Girls
Round 1
Cecilia Kann (Norfolk Catholic Girls) 11-9, Sr. over Serenity Heil-Ellis (Wayne Girls) 9-13, Fr. (Fall 3:01)
Lilly Mefford (Battle Creek Girls) 13-12, Fr. over Autumn Scheffler (Boone Central Girls) 6-14, Fr. (Fall 1:41)
Round 2
Haylee Miller (Pierce Girls) 21-6, Sr. over Autumn Scheffler (Boone Central Girls) 6-14, Fr. (Fall 0:16)
Cecilia Kann (Norfolk Catholic Girls) 11-9, Sr. over Lilly Mefford (Battle Creek Girls) 13-12, Fr. (Dec 4-3)
Round 3
Haylee Miller (Pierce Girls) 21-6, Sr. over Lilly Mefford (Battle Creek Girls) 13-12, Fr. (Dec 12-6)
Serenity Heil-Ellis (Wayne Girls) 9-13, Fr. over Autumn Scheffler (Boone Central Girls) 6-14, Fr. (Fall 1:46)
Round 4
Haylee Miller (Pierce Girls) 21-6, Sr. over Serenity Heil-Ellis (Wayne Girls) 9-13, Fr. (Fall 0:38)
Cecilia Kann (Norfolk Catholic Girls) 11-9, Sr. over Autumn Scheffler (Boone Central Girls) 6-14, Fr. (Fall 0:23)
Round 5
Haylee Miller (Pierce Girls) 21-6, Sr. over Cecilia Kann (Norfolk Catholic Girls) 11-9, Sr. (Dec 5-3)
Lilly Mefford (Battle Creek Girls) 13-12, Fr. over Serenity Heil-Ellis (Wayne Girls) 9-13, Fr. (Fall 0:41)
140G
Guaranteed Places
1st Place – Isabelle Kuehler of Pierce Girls
2nd Place – Madison Reilly of Boone Central Girls
3rd Place – Grace Koch of Norfolk Catholic Girls
4th Place – Ava Chohon of ONeill Girls
Round 1
Isabelle Kuehler (Pierce Girls) 23-9, Fr. over Ava Chohon (ONeill Girls) 9-12, Sr. (Fall 1:01)
Madison Reilly (Boone Central Girls) 19-9, Fr. over Grace Koch (Norfolk Catholic Girls) 13-10, Sr. (Dec 7-2)
Round 2
Isabelle Kuehler (Pierce Girls) 23-9, Fr. over Grace Koch (Norfolk Catholic Girls) 13-10, Sr. (Fall 4:40)
Madison Reilly (Boone Central Girls) 19-9, Fr. over Ava Chohon (ONeill Girls) 9-12, Sr. (Fall 0:35)
Round 3
Isabelle Kuehler (Pierce Girls) 23-9, Fr. over Madison Reilly (Boone Central Girls) 19-9, Fr. (Fall 3:55)
Grace Koch (Norfolk Catholic Girls) 13-10, Sr. over Ava Chohon (ONeill Girls) 9-12, Sr. (Fall 4:29)
145G
Guaranteed Places
1st Place – Claudia Riggert of Pierce Girls
1st Place Match
Claudia Riggert (Pierce Girls) 16-7, So. over () , . (Bye)
155G
Guaranteed Places
1st Place – Jaisie Janssen of Crofton-Bloomfield Girls
2nd Place – Paola Vergara of ONeill Girls
3rd Place – Kadence Rees of Wayne Girls
4th Place – Candace Miller of Pierce Girls
5th Place – Paige Rumans of Battle Creek Girls
Round 1
Jaisie Janssen (Crofton-Bloomfield Girls) 18-12, Fr. over Kadence Rees (Wayne Girls) 11-12, So. (Fall 5:33)
Candace Miller (Pierce Girls) 8-12, Fr. over Paige Rumans (Battle Creek Girls) 4-18, Fr. (Fall 2:59)
Round 2
Paola Vergara (ONeill Girls) 24-6, Jr. over Paige Rumans (Battle Creek Girls) 4-18, Fr. (Fall 1:50)
Jaisie Janssen (Crofton-Bloomfield Girls) 18-12, Fr. over Candace Miller (Pierce Girls) 8-12, Fr. (Fall 1:26)
Round 3
Paola Vergara (ONeill Girls) 24-6, Jr. over Candace Miller (Pierce Girls) 8-12, Fr. (Fall 2:31)
Kadence Rees (Wayne Girls) 11-12, So. over Paige Rumans (Battle Creek Girls) 4-18, Fr. (For.)
Round 4
Paola Vergara (ONeill Girls) 24-6, Jr. over Kadence Rees (Wayne Girls) 11-12, So. (Fall 3:21)
Jaisie Janssen (Crofton-Bloomfield Girls) 18-12, Fr. over Paige Rumans (Battle Creek Girls) 4-18, Fr. (Fall 1:58)
Round 5
Jaisie Janssen (Crofton-Bloomfield Girls) 18-12, Fr. over Paola Vergara (ONeill Girls) 24-6, Jr. (Dec 2-1)
Kadence Rees (Wayne Girls) 11-12, So. over Candace Miller (Pierce Girls) 8-12, Fr. (Fall 4:32)
170G
Guaranteed Places
1st Place – Madelynne Jakubowski of ONeill Girls
2nd Place – Annabelle Poppe of Crofton-Bloomfield Girls
3rd Place – Carrington Uhlir of Battle Creek Girls
4th Place – Katelyn Gubbels of Pierce Girls
1st Place Match
Madelynne Jakubowski (ONeill Girls) 28-6, Sr. over Annabelle Poppe (Crofton-Bloomfield Girls) 22-8, So. (SV-1 6-4)
3rd Place Match
Carrington Uhlir (Battle Creek Girls) 13-18, So. over Katelyn Gubbels (Pierce Girls) 24-12, Sr. (Fall 1:56)
190G
Guaranteed Places
1st Place – Danielle Carney of Norfolk Catholic Girls
2nd Place – Mariah Eckert of Pierce Girls
3rd Place – Ashlynn Rath of Battle Creek Girls
4th Place – Kira Vavra of Pierce Girls
Round 1
Danielle Carney (Norfolk Catholic Girls) 15-6, So. over Kira Vavra (Pierce Girls) 6-13, So. (Fall 0:56)
Mariah Eckert (Pierce Girls) 16-12, Sr. over Ashlynn Rath (Battle Creek Girls) 11-10, Sr. (Fall 4:34)
Round 2
Danielle Carney (Norfolk Catholic Girls) 15-6, So. over Ashlynn Rath (Battle Creek Girls) 11-10, Sr. (Fall 1:42)
Kira Vavra (Pierce Girls) 6-13, So. over Mariah Eckert (Pierce Girls) 16-12, Sr. (Dec 6-4)
Round 3
Danielle Carney (Norfolk Catholic Girls) 15-6, So. over Mariah Eckert (Pierce Girls) 16-12, Sr. (Fall 2:42)
Ashlynn Rath (Battle Creek Girls) 11-10, Sr. over Kira Vavra (Pierce Girls) 6-13, So. (Fall 0:32)
235G
Guaranteed Places
1st Place – Quinlyn Kennel of Norfolk Catholic Girls
2nd Place – Alexis Anderson of Battle Creek Girls
3rd Place – Lauren Ueding of Pierce Girls
Round 1
Alexis Anderson (Battle Creek Girls) 12-13, Sr. over Lauren Ueding (Pierce Girls) 6-18, So. (Fall 3:46)
Round 2
Quinlyn Kennel (Norfolk Catholic Girls) 9-6, Sr. over Lauren Ueding (Pierce Girls) 6-18, So. (Fall 0:45)
Round 3
Quinlyn Kennel (Norfolk Catholic Girls) 9-6, Sr. over Alexis Anderson (Battle Creek Girls) 12-13, Sr. (Dec 3-1)
Boys Team Scores
1 Battle Creek 192.0
2 O`Neill 163.0
3 Pierce 145.5
4 Boone Central 121.5
5 Crofton/Bloomfield 116.0
5 Wayne 116.0
7 Cedar Catholic 111.5
8 Guardian Angels Central Catholic 50.0
9 Norfolk Catholic 37.5
Girls Team Scores
1 Pierce Girls 153.0
2 Battle Creek Girls 116.0
3 Boone Central Girls 112.0
4 Norfolk Catholic Girls 83.0
5 Wayne Girls 68.0
6 O'Neill Girls 64.0
7 Crofton-Bloomfield Girls 49.0
Pictures provided by Wrestling Team Manager Alana Hoefer