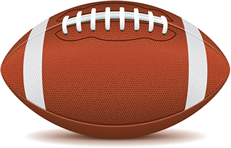 O'Neill – The D2-4 football coaches have voted and named this seasons All-Conference, Second team, and Honorable Mention performers!
The teams representing the D2-4 District this season were Ainsworth, Boyd County, CWC, EPPJ, Niobrara-Verdigre, and St. Mary's  The D2-4 District was highly competitive this past season as 3 of the 6 teams made it to the playoffs.
The Ainsworth Bulldogs made it to their first ever second-round playoff game while winning the district with an undefeated regular season record. Carter Nelson led the Bulldogs with an All-District selection offensively as an athlete and kicker! Defensively, the Bulldogs saw Trey Appelt, Riggin Blumenstock, Owen Blumenstock, and Traegan McNally earn first team honors!
The EPPJ Wolfpack finished their season against Twin Loup in the first-round of the D2 State football playoffs. Earning first team honors on offense were Paiton Hoefer, Jack Wemhoff, Ethan Hinkle, Nick Anderson, and Blake Henn! The talented linebacker Dylon Lueking was the lone defensive first-team selection for the Wolfpack.
The St. Mary's Cardinals also had four total players named to the first-team All-District performers. St. Mary's finished their season in the first-round of the playoffs against eventual semi-finalist Central Valley. On offense, Isaac Everitt was the lone selection at tight end. The defensive first-team included Gage Hedstrom, Dalton Alder, and Wyatt Scofield.
Below you can find the first, second, and honorable mention D2-4 Football All-District performers!
First Team Offense:
QB: Paiton Hoefer, EPPJ
RB: Jack Wemhoff, EPPJ
RB: Hudson Hoffman, Boyd County
OL: Ethan Hinkle, EPPJ
OL: Nick Anderson, EPPJ
TE: Isaac Everitt, St. Mary's
TE: Blake Henn, EPPJ
TE: Solan Bowen, CWC
ATH: Carter Nelson, Ainsworth
Kicker: Carter Nelson, Ainsworth
Punter: Peter Jesse, CWC
Second Team Offense:
RB: Cale Kinney, EPPJ
RB: Morgan Kinney, Ainsworth
RB: Brett Koenig, Boyd County
OL: Gunnar Shabram, Niobrara-Verdigre
OL: Brady Renner, CWC
First Team Defense:
DL: Trey Appelt, Ainsworth
DL: Riggin Blumenstock, Ainsworth
LB: Dylon Lueking, EPPJ
LB: Gage Hedstrom, St. Mary's
LB: Hunter Hoerle, CWC
LB: Wyatt Scofield, St. Mary's
LB: Owen Blumenstock, Ainsworth
DB: Traegan McNally, Ainsworth
DB: Dalton Alder, St. Mary's
Second Team Defense:
DL: Samuel Hemenway, EPPJ
DL: Zander Kluckman, Boyd County
DL: Kellen Moody, Niobrara-Verdigre
DL: Jace Rosenkrans, St. Mary's
DL: Gunner Hoerle, CWC
LB: Landon Holloway, Ainsworth
Honorable Mentions:
Ainsworth
Jacob Heid
Ian Finley
Boyd County
Deegan Johnson
CWC
Blake Wolinski
Cooper Pokorny
EPPJ
Taylor Beckman
Austin Good
Niobrara-Verdigre
Dontae Justo
Cody Wickersham
Westin Bauer
St. Mary's
Risken Dawson
Joe Wiese
Ruger Kraft