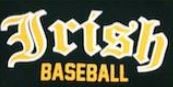 O'Neill – The Irish Baseball 10U, 12U, and 14U travel teams held tryouts to a record number of area players on Wednesday, July 20th and Thursday, July 21st.
14 total players were named to the 14U and 10U team while the 12U team will have a total roster size of 12 players.
Below you can find the rosters for each Irish Baseball travel team!
10U
Dawson Kluver
Crue Ickes
Tyce Parks
Kolt Sibbel
Wyatt Drueke
Charlie Kellum
Knox Ogden
Bannon Wecker
Tugg Ickes
Easton Kasselder
Alvaro Garcia
Kale Kelly
Brooks Kelly
Max Frank
12U
Cameron Laursen
Bo Cahoy
David Garcia
Grayson Frank
Paxton Mathews
Pierson Classen
Ryder Novak
Corbin Kasselder
Tate Diedecker
Hudson Wiseman
Connor Banks
Krayton Ogden
14U
Xzavier Parks
Drake Berg
Max Berg
Nate Brown
James Eby
Eli Banks
Daniel Kluver
Dalton Herley
Maguire Heiss
Ryder Kelly
Lane Boelter
Nigel Addison
Ryker Sudbeck
Evan Shoemaker