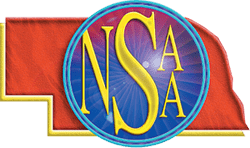 O'Neill – The 2022 NSAA State Track & Field Championships will be held Wednesday, May 18th thru Saturday, May 21st at Burke Stadium in Omaha.
The KBRX area will be well represented as 79 total area athletes qualified for the 2022 State Track & Field Meet! The Area will be represented by schools in Class B, C, and D! The schools in the area with State Track qualifiers are Ainsworth, Boyd County, Creighton, CWC, Elkhorn Valley, EPPJ, Neligh-Oakdale, Niobrara-Verdigre, North Central, O'Neill, Stuart, St. Mary's, Summerland, and West Holt! The North Central Knights led the way with 10 total athletes qualifying for State!
KBRX will have updates on 102.9 FM at :30 past the hour throughout all four days and have our LIVE BLOG on our website sports page!
Here is the schedule for all four days: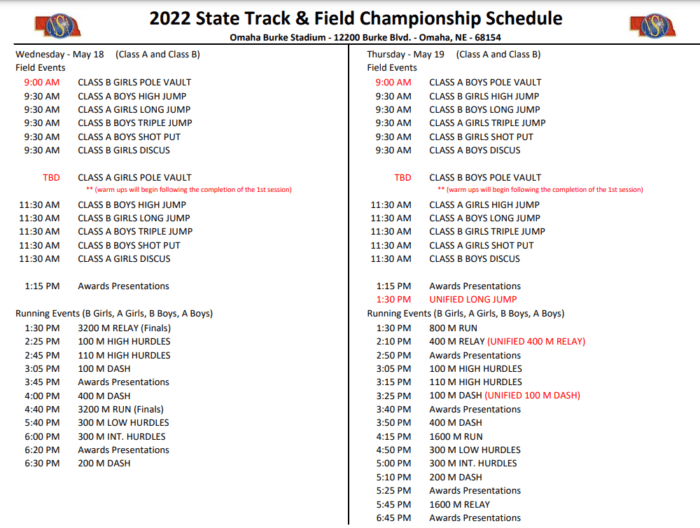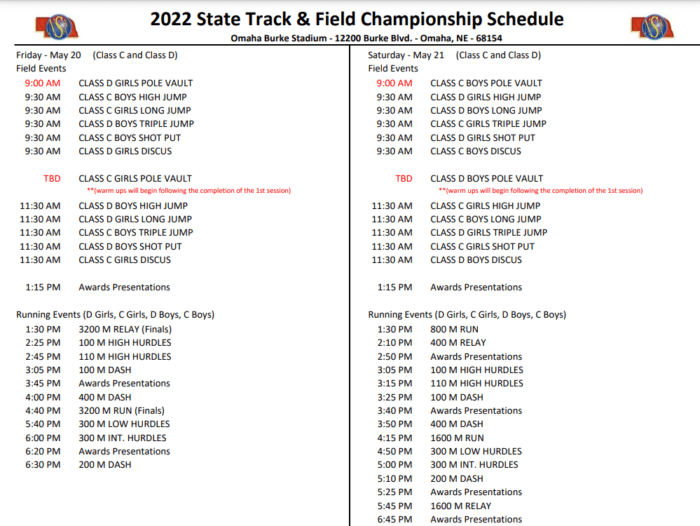 State Qualifiers
Class B
O'Neill
Zelie Sorensen – 100 M Dash, 200 M Dash, Pole Vault
Joseph Engelbart – Shot Put
Keaton Wattier – 110 M Hurdles
Sean Coventry – High Jump
Class C
Ainsworth
Eden Raymond – Triple Jump
Kaitlyn Nelson – Shot Put, Discus
Carter Nelson – High Jump, Pole Vault, 200 M Dash
Caleb Allen – Triple Jump, 110 M Hurdles, 300 M Hurdles
Katherine Kerrigan – 3200 M Run
Ty Schlueter – 3200 M Run, 1600 M Run
Emma Kennedy – 1600 M Run
Cameryn Goochey – Long Jump
Elkhorn Valley
Carter Werner – High Jump, 300 M Hurdles
Nate Decker – Long Jump
Kenzie Mosel – 4×800 M Relay, 1600 M Run
Carney Black – 4×800 M Relay
Kennedy Penne – 4×800 M Relay
Joslynn Larson – 4×800 M Relay
Kenzie Mosel – 800 M Run
Reed Bennett – 200 M Dash
North Central
Brooklyn Buell – Pole Vault, 100 M Dash, 4×400 M Relay
Mason Hagan – 800 M Run
Morgan Lewis – 300 M Hurdles, 4×400 M Relay
Raden Orton – 1600 M Run
Carson Anderson – 4×100 M Relay
Troy Reynolds – 4×100 M Relay
Dolan Pospichal – 4×100 M Relay
Wyatt Prewitt – 4×100 M Relay
Daisy Frick – 800 M Run, 4×400 M Relay
Brielle Bussinger – 4×400 M Relay
Summerland
Bailey Ahlers – High Jump
Hadley Cheatum – 400 M Dash, 800 M Run, 300 M Hurdles, 100 M Hurdles
Trevor Thomson – 100 M Dash, 200 M Dash
West Holt
Katelynn Kratz – High Jump, 4×100 M Relay
Ainsley Galyen – 400 M Dash, 200 M Dash, 4×100 M Relay
Maddie Davis – 3200 M Run, 1600 M Run
Caid McCart – 100 M Dash, 200 M Dash
Tyler Jelinek – Long Jump
Asher McCart – 400 M Dash
Abbygail Davis – 4×100 M Relay
Makenna Schaaf – 4×100 M Relay
Class D
Boyd County
McKenzie Snyder – Discus, Shot Put
Natasha Zeisler – 3200 M Run
Paige Drueke – 1600 M Run, 800 M Run
Creighton
Brody Eggers – High Jump, Triple Jump
Cade Hammer – Triple Jump, Long Jump, 200 M Dash
Matthew Johnson – Pole Vault
Kyler Adams – 110 M Hurdles
Maycee Zimmerer – Pole Vault
CWC
Lizzie Gartner, Long Jump
Jackson Waldo – 100 M Dash
Cole Duba – 100 M Dash, 200 M Dash
Ethan Moses – 800 M Run, 1600 M Run
Jayna Guggenmos – 800 M Run
Hailey Genereux – 1600 M Run
EPPJ
Blake Henn, Shot Put
Colton Wright – Discus, 4×100 M Relay
Ashlynne Charf – 100 M Dash, 200 M Dash
Corbin Kinney – 4×100 M Relay
Camryn Pelster – 4×100 M Relay
Jack Wemhoff – 4×100 M Relay
Neligh-Oakdale
Talon Krebs – Pole Vault
Niobrara-Verdigre
Andrea Sucha – High Jump, Triple Jump, 100 M Hurdles
Michaela Ravenkamp – 3200 M Run
Summer Vesley – 4×100 M Relay
Josilyn Miller – 4×100 M Relay
Billie Pritchett – 4×100 M Relay
Bree Briethaupt – 4×100 M Relay
Stuart
Sydney Estill, High Jump
Cadence Kramer, Discus
Lexi Schroder – Shot Put
Lacey Paxton – 200 M Dash
St. Mary's
Mya Hedstrom – Long Jump, 4×800 M Relay, 800 M Run, 4×400 M Relay
Alissa Brabec – 4×800 M Relay, 4×400 M Relay
Kaylin Gaughenbaugh – 4×800 M Relay, 400 M Dash, 4×400 M Relay
Lorissa Reiman – 4×800 M Relay, 4×400 M Relay
Annabelle Barlow – 100 M Dash
Will Schmitz – 800 M Run, 1600 M Run
Emma Winkelbauer – Pole Vault