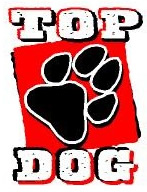 O'Neill – Ashlynne Charf of EPPJ and Lincoln Konrad of West Holt have been named KBRX's Stadium Sports Top Dog Athletes of the Week!
Ashlynne Charf a sophomore basketball player for the EPPJ Lady Wolfpack had a standout performance against Bloomfield! This season, Charf has averaged nearly 12 points per game which makes her EPPJ's second leading scorer. After a season ending injury last season, Charf has come back strong to help lead the Lady Wolfpack to a 10-2 start! Charf continued her strong play offensively as she finished with 22 points against Bloomfield!
Lincoln Konrad a freshman basketball player for the West Holt Huskies had an impact both offensively and defensively in the win against Summerland. As a freshman, Konrad is the Huskies second leading scorer as he's averaging 10 points per game! Konrad may have had his best performance of the season against the Bobcats as he finished his night with 18 points, 9 rebounds, and 3 blocks to secure a big conference win against Summerland!
KBRX would like to congratulate these athletes for their fantastic performances. If you see an athlete have a great performance, remember to let KBRX know! You can either email KBRX at sports@kbrx.com or text 402-336-1612 for your nominations.