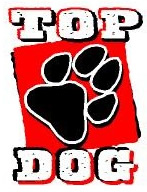 O'Neill – Mya Hedstrom of St. Mary's and Schuyler Mustin of Stuart have been named KBRX's Stadium Sports Top Dog Athletes of the Week!
Mya Hedstrom a sophomore basketball player for the St. Mary's Lady Cardinals had a standout performance against GICC! This season, Hedstrom has averaged 15 points per game which leads the Lady Cardinals in scoring. Against a talented Lady Crusaders squad, Hedstrom had one of her most efficient scoring nights of her career. Hedstrom finished with 18 points while going 2-2 from behind the arc, 8-8 at the free throw line, and 4-6 total from the floor. Hedstrom also finished with 5 rebounds, 2 assists, and 2 steals to help the Lady Cardinals to a win.
Schuyler Mustin a junior basketball player for the Stuart Broncos had an all-around performance against the Osmond Tigers. On the season, Mustin is averaging nearly 14 points per game and is tied for the Broncos leading scorer! Mustin may have had his best performance of the season against the Tigers. Mustin finished his night with 13 points, 13 rebounds, 4 assists, and 2 steals to secure a double-double in the win against Osmond!
KBRX would like to congratulate these athletes for their fantastic performances. If you see an athlete have a great performance, remember to let KBRX know! You can either email KBRX at sports@kbrx.com or text 402-336-1612 for your nominations.