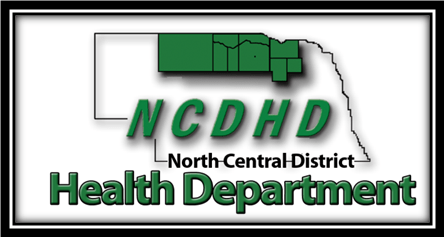 North Central District Health Department (NCDHD) has been made aware of 224 new COVID-19 cases in the district since last reporting period on 11/15/2021.
Need a COVID-19 test? Cherry County Hospital is offering FREE rapid COVID-19 testing. The week of Thanksgiving, CHERRY COUNTY HOSPITAL WILL ONLY BE PERFORMING COVID-19 TESTING ON TUESDAY, NOVEMBER 23 FROM 2PM-3PM. This service will be regularly offered Tuesday, Thursday, and Friday from 2p-3p. To register, a patient should call Cherry County Hospital 402-376-2525 or Cherry County Clinic 402-376-3770 and press pound to be connected to the registration voicemail. Cut off for registration is 12pm the day of testing.
Everyone ages 18 and older can get a COVID-19 booster shot. To be eligible after the Pfizer or Moderna primary 2-dose series, an individual needs to wait at least 6 months after completion of the second vaccine dose. To be eligible after a Janssen J&J dose, an individual needs to wait at least 2 months after the shot.
Persons may choose to receive any authorized or approved vaccine booster dose currently available, Moderna, Pfizer or Janssen (Johnson & Johnson), regardless of which primary series they received.
Pfizer COVID-19 vaccines have been approved for children aged 5-11 years old. NCDHD will be offering these at NCDHD sponsored vaccine clinics. Important things to note about the 5–11-year-old Pfizer vaccines:
A 2nd dose is required 21-42 days after first dose to attain maximum immunity.
NCDHD will REQUIRE children under 12 years of age to have a parent, guardian, or other trusted family member/friend over age 19 accompany them at clinic.
A parent or guardian must sign the child's vaccination form.
NCDHD has the following clinic times available for walk-ins during the noted times below. If you already have a scheduled appointment time for a clinic on this list, please arrive at that scheduled time.
Due to the Thanksgiving holiday, NCDHD will not be running any vaccine clinics the week of November 22nd.
NCDHD Sponsored Clinics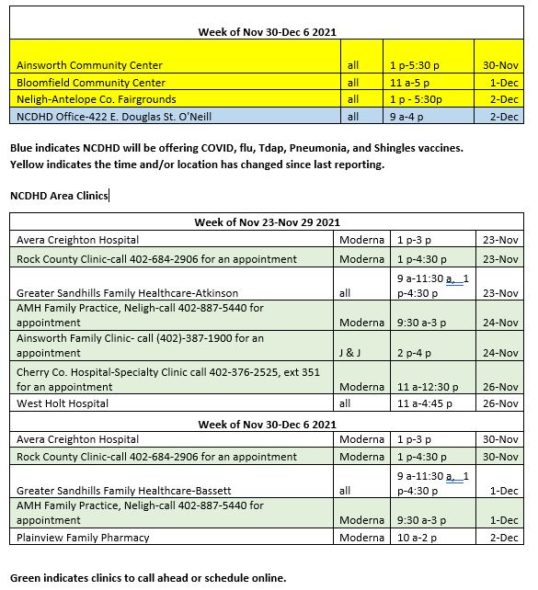 Vaccine by the numbers from all sources including Federal reporting: Bureau of Prisons (BOP), Department of Defense (DOD), Indian Health Service (IHS) and Veterans Health Administration (VHA)
total doses administered: 43,760
fully vaccinated: 23,697
partially vaccinate: 3,814
16+ vaccinated: 66.0%
Total NCDHD district population vaccinated: 53.2%
Case count update as of 11/22/2021 at 3:00 PM: 6,554 Total Cases (TC), 5,828 Recoveries (R), and 90 Deaths (D). There have been 390 total cases reported in the last 14 days.
Case count update for the last 7 days: 224 Cases (C), 170 Recoveries (R), 1 Deaths (D).
If interested in county-level data, the CDC has data available at https://covid.cdc.gov/covid-data-tracker/#county-view or on the DHSS website https://datanexus-dhhs.ne.gov/views/Covid/1_HospitalCapacity?:isGuestRedirectFromVizportal=y&:embed=y