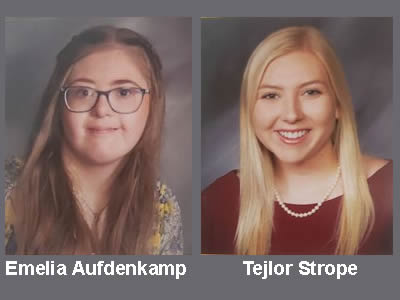 The AKSARBEN Foundation Women's Ball Committee has announced the 2020 & 2021 Aksarben Ball Heartland Princesses.  Among the Princesses will be two O'Neill ladies.
Emelia (Eme) Aufdenkamp, daughter of Sherry and Jon Aufdenkamp, and Tejlor Strope, daughter of MaLaine and Boyd Strope were named Princesses and will be at the Aksarben Ball.
The Aksarben Foundation's headlining event, the Aksarben Ball will be held Saturday, October 23, 2021, at the CHI Health Center in Omaha, and has been bringing together Nebraska's civic-minded families for 125 years to celebrate and recognize the spirit of giving in our state. The ball format recognizes a number of families for their contributions to their communities and Nebraska. While the event raises money to further the Aksarben mission and initiatives, the purpose of the event is to convene and honor families committed to the wellbeing of the state. It is no secret that the past, present and future success of Nebraska depends on the civic engagement of its citizens.
Each year, approximately 1,500 attend the Aksarben Ball at the CHI Health Center Omaha. The event includes the formal introduction of the Royal Court honoring more than 200 Nebraska and western Iowa families and proudly celebrates Aksarben scholars.