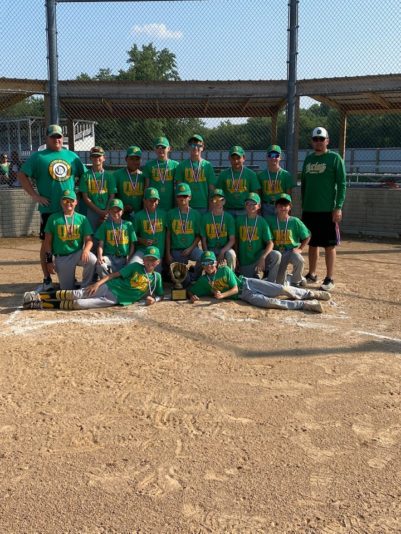 O'Neill – The O'Neill Irish Little League competed in the Quad County League Tournament from July 5 to July 12.
O'Neill was the #1 seed heading into the tournament with a perfect 10-0 record. O'Neill opened up with Wausa/Osmond on Monday and won 8-4. Their next opponent on Friday was Plainview. O'Neill won 12-7. They would face Creighton on Saturday in the semifinals winning 7-0. The finals would be played on Sunday and O'Neill would again face Plainview who made it out of the losers bracket. O'Neill won the championship 4-0 finishing with a perfect 14-0 record.
Coaches for the Irish were Ryan Berg, Steve Brown, and Ryan Parks.
Players for the Irish were Xzavier Parks, Maguire Heiss, Drake Berg, Tanner Owens, Evan Shoemaker, Nate Brown, James Eby, Ryder Kelly, Tucker Anderson, Ben Barlow, Ray Eaglestar, Kade Semin, Eli Banks, Dalton Herley, Max Berg, Iann Grosch, Charlie Hanson, Ryker Sudbeck, and Remington Risinger
Story and picture provided by Ryan Parks