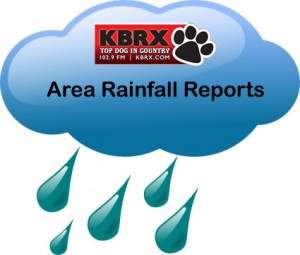 An early morning storm moved through the KBRX area on Friday, June 11, 2021 bringing some much needed rain.  Here are rainfall reports called in to KBRX.
KBRX in O'Neill 0.48"
Marita Placek at Lynch 0.40"
Roger Brink in North Atkinson 0.42"
Bernard Kamphaus, 15 miles south of O'Neill 1.00"
Richter's, 18 miles northeast of O'Neill 0.80"
Steve Reiser, Pickstown, SD  1.10"
Neil Tompkins, 4 miles southeast of Inman 1.50"
Larry Mudloff, 2 ½ miles north of Page 1.50"
John Havranek, Avon, SD 1.25"
Pastor Grant Graff, downtown Spencer 0.55"
One mile north of Gross, NE 0.75"
Kenneth Klabenes, ½ mile northeast of Chambers 0.54"
Village of Naper  0.50"
Village of Page 1.25" some small pea size hail
½ mile north of Inman 1.50"
Chris Dierks, northeast Wheeler County 0.15"
At Stafford, or the weigh scales east of Inman  1.20"
Mike Denker, southwest of Wagner, SD 1.14"
Milan Welke at Ewing 1.20"
Jackie Lechtenberg, 1 mile east of Lynch 0.90"
Rod Stolcpart, 5 miles south of Newport 0.33"
Scott Schultz,11 miles north and 5 miles west of O'Neill 0.50"
The Dicke Ranch, south of Deloitte Township in northeast Wheeler Co. 1.30"
Tom Sojka, 20 miles northwest of O'Neill 0.80"
VanHouten's, ½ mile north of Anoka 0.42"
Northwest of Verdigre 1.74"
Bob Krutz, near Orchard 1.30"
Grandma Pam, 12 miles west and 3 miles north of Verdigre  1.50"
Neligh 1 inch
Quarter Size Hail by 1510 Putter St. O'Neill – Click here for photo!