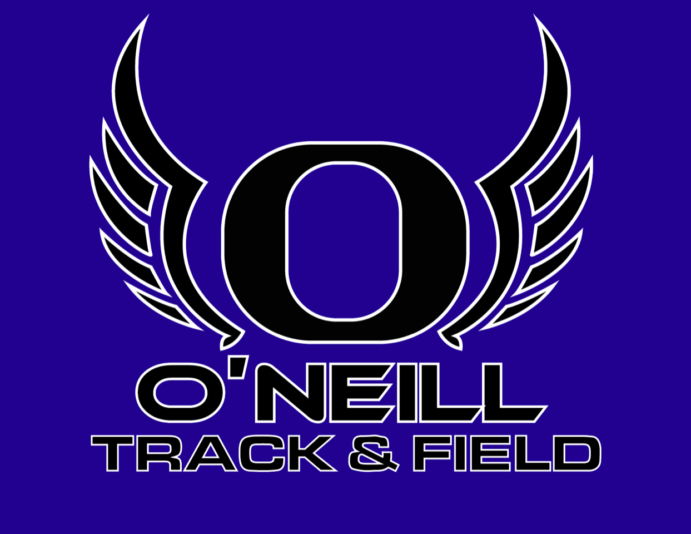 The O'Neill Lady Eagles Track and Field team traveled to Pierce for the always competitive Mid State Conference Track Meet and fared very well. O'Neill finished as runner-up to Boone Central 103-96.
In a day of multiple personal best performances, none stood out more than junior Zelie Sorensen. Sorensen won the 200M Dash in a new school and Mid State Conference record time of 25.59. Zelie broke the 23 year old school record of 25.64 set by Rita Kitchens in 1998 and the Mid State meet record of 25.79 set in 2019 by former Cedar Catholic and current University of South Dakota standout, Sara Reifenrath. Zelie also finished 2nd in the Pole Vault at 8-0 and was the anchor leg of the 4 x 100 Relay team that ran their personal best time of 50.56. Other members of the relay were Alyssa Eichelberger, Blair Gutshall and Meg Schluns.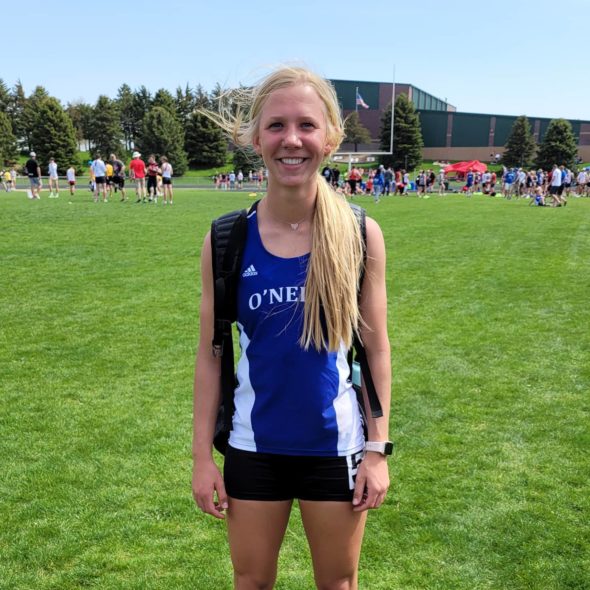 Zelie Sorensen
Another highlight of the day was Blair Gutshall's return to the High Jump. Blair had not high jumped since her sophomore year and ended up winning the event with a new personal best leap of 5-3. Blair attempted 5-4.5 to to break the school record of 5-4, but was unsuccessful. Blair also sped to a new personal best time of 15.37 in the 100 High Hurdles finishing in 2nd place.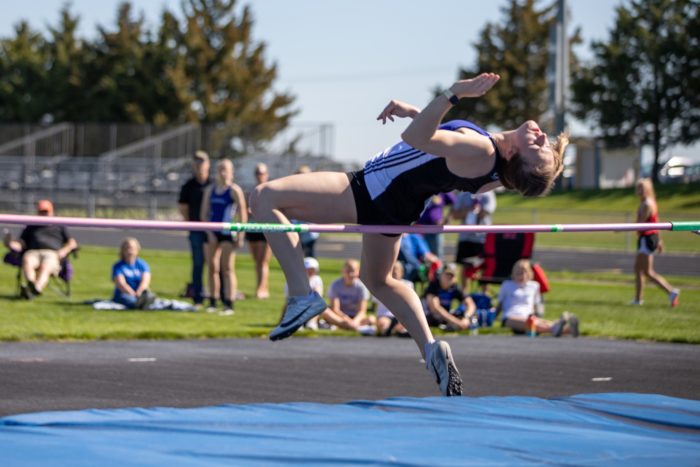 Blair Gutshall high jump
Lauren Young had a great day as well finishing 2nd in the Triple Jump (35-1.5) and 3rd in the Long Jump with a new personal best leap of 16-7. Lauren also made her season debut in the 100M Dash finishing in 3rd place with a new personal best time of 13.06.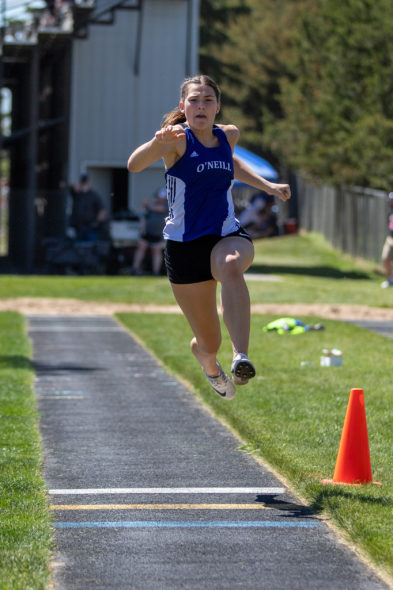 Lauren Young competing at Triple Jump
Freshman Presley Heiss continues to impress and improve every meet and placed in both the 100 and 200 dashes. Heiss improved her times on both events running 13.23 placing 5th in the 100 and 27.41 in the 200 placing 6th.
Another freshman placing in the meet was Ashley Dickau who finished in 3rd in the 3200 at 13:36.61.
Meg Schluns was another Eagle who had a great day. Schluns running the 400 for the first time this season sprinted to a new personal best time of 61.68 to finish in 2nd place. She also finished 4th in the Long Jump going 16-4.5. Schluns was joined by Gutshall, Autumn Hilker and Alyssa Eichelberger to win the 4 x 400 Relay with a time of 4:15.55.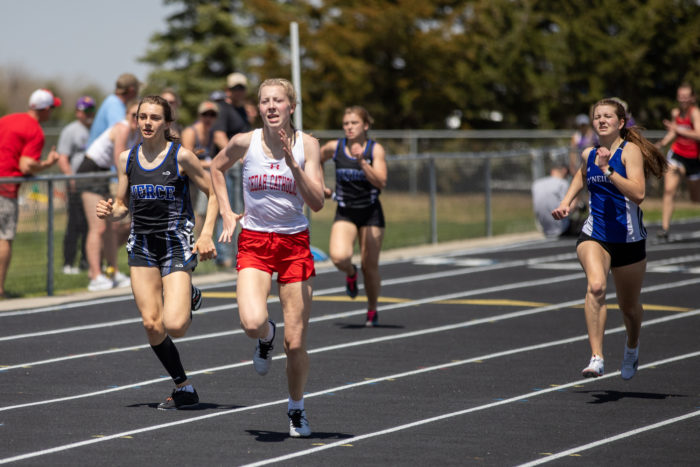 Meg Schluns running 400 M Dash
Others with personal bests at the meet were: Minlu Liu with a 28.66 in the 200; Becky Hupp with a 31-10 in the Shot Put; Hana Miller 23-7.5 in the Shot Put and Preslie Robertson in the 100HH with a time of 19.03.
"I have been coaching track for over 30 years and I have never experienced anything like I did today at the Mid State Conference Meet. I've never witnessed so many athletes performing at such a high level. Zelie Sorensen breaking a school record that I did not think would get touched for a long time is a big deal. I thought we could finish in the top 3 at the Conference Meet and came really close to winning it all just getting edged out by 7 points by Boone Central.
We just had so many great performances today and we are really starting to peak at the right time as we head into Districts on May 14th. We will be competing in our final regular season meet on May 7th at Norfolk Catholic."
Story and pictures provided by Micheal Peterson