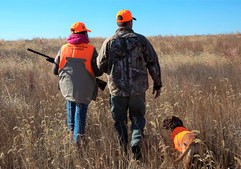 Nebraska Game and Parks is offering additional incentives to landowners who sign up for the Conservation Reserve Program, commonly known as CRP.
Agricultural producers and private landowners can enroll in the CRP general sign-up through Feb. 12, or continuous CRP practices until Oct. 1. The program administered by the USDA's Farm Service Agency provides annual rental payments for land devoted to conservation.
Through CRP, farmers and ranchers establish a perennial cover, such as a stand of native grasses to help control soil erosion, improve water quality and enhance wildlife habitat on marginal cropland. A variety of additional financial incentives are being offered within eight priority areas of the state to encourage landowner participation in CRP.
Learn more at our website, and for any additional questions about incentives offered, contact your nearest Game and Parks office or service center and ask to speak to a wildlife biologist about CRP.