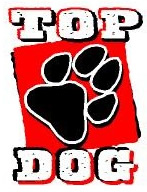 O'Neill – Two athletes have been named this week as Blair Gutshall and Landon Classen of O'Neill have been named KBRX's Stadium Sports Top Dog Athletes of the Week.
Landon Classen a Sophomore Basketball player for the O'Neill Eagles scored a career high in a big win over Winnebago! Classen has continued to make an impact early in his career for the Eagles as he is the team's leading scorer for the second straight season. Against Winnebago, Classen finished with 32 points, 5 assists, 4 rebounds, and 4 assists to help the Eagles to their 5th win of the season!
Blair Gutshall a Senior Basketball player for the O'Neill Lady Eagles had a career night against the Winnebago Lady Indians. Gutshall has continued to develop her offensive game this season for the Lady Eagles. Against Winnebago, Gutshall finished with a team high 18 points to go along with her 5 rebounds, 2 assists, and 1 steal!
KBRX would like to congratulate these two athletes for their fantastic performances. If you see an athlete have a great performance, remember to let KBRX know! You can either email KBRX at sports@kbrx.com or text 402-336-1612 for your nominations.