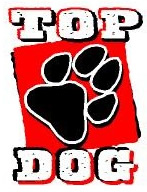 O'Neill – Two athletes have been named this week as Peyton Mathews of O'Neill and Emily Nordby of Summerland have been named KBRX's Stadium Sports Top Dog Athletes of the Week.
Peyton Mathews a Senior football player for the O'Neill Eagles had a solid defensive performance against the Valentine Badgers. As an experienced varsity starter, Mathews has been a leader for the Eagles early in their season. In the game against Valentine, Mathews led the opportunistic Eagles defense to a big night.  Mathews was a play-maker for the Eagles defense as he had 2 interceptions as he took one back for a touchdown. Mathews also finished with a forced and recovered fumble to go along with 9 tackles! 
Emily Nordby a Junior volleyball player for the Summerland Lady Bobcats had a special all-around performance against Niobrara-Verdigre. Nordby was a large contributor for the Lady Bobcats in their match against the Lady Cougars. Nordby was incredibly effecient on the attack offensively as she finished 12/12 with 8 kills on the night! On the season, Nordby leads the team in solo (6) and assisted (7) blocks with a total of 13!
KBRX would like to congratulate these two athletes for their fantastic performances. If you see an athlete have a great performance, remember to let KBRX know! You can either email KBRX at sports@kbrx.com or text 402-336-1612 for your nominations.