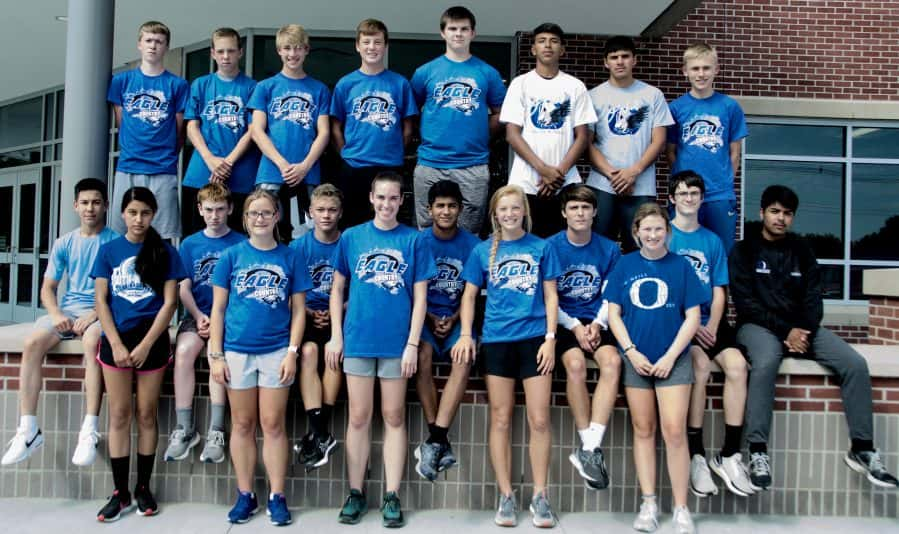 Front Row (Left to Right): Shuhrat Rakhimov,, Yoselin Cayax, William Grosch, Alexa Shald, Cullen Kartella, Faith Williamson, Oscar Lopez, Taya Rainforth, Brady Thompson, Alyssa Gdanitz, Carter Hilckey, Enrique Sanchez
Back Row (Left to Right): Kyler Dean, Blake Parks, Tyler Diediker, Ty Rainforth, Justin Beeks, Lio Dominguez, Servando Gonzalez, Berren Strope
Unable to be in the picture: Ally Sedlacek, Naimjon Ghaffurov, Joe Yates, Jesus Romero, Lukas Dougherty
O'Neill – Last week the O'Neill Eagles competed at the Boone Central Invitational. Thirteen schools competed at the meet.
Lady Eagles started the day with Faith Williamson medalling, 9th overall. Taya Rainforth placed 27th, Ally Sedlacek 45th, Alyssa Gdanitz 51st, Alexa Shald 53rd, and Yoselin Cayax 62nd. The team placed 7th.
"Overall the girls ran faster than they did last year at this meet. The goal to take the part of the race did well and build from that," said Coach Hilker.
The boy's team placed 5th overall with two individual medalists. Brady Thompson made the top five and Ty Rainforth earned his first varsity medal by placing 18th. Rounding out the top six was Cullen Cartella 29th, Oscar Lopez 34th, Joe Yates 56th, and Blake Parks 66th. Rest of the team members were: Enrique Sanchez 86th, Kyler Dean 90th, William Grosch 101st, Tyler Diediker 102nd, and Carter Hickey 120th.
"We really have seen some growth in our team from last year. On the boy's side five of the top six are freshman and sophomores. I thought we did some great things. What's great about running such a young group of guys is that they will get so much faster each week just from the experience they get from racing weekly. Along with their training it will be fun to watch both teams compete every week," commented Hilker.
The junior high competed. Medalling for the junior high girls were Ashley Dickau 6th and Annie Corkle 9th. Competing in the meet were: Minlu Lui 18th, Zuri Moore 22nd, Emma Sedlacek 23rd, Jace Gregory 34th, Aliyha Anderson 35th, and Kanzeis Fonseca 37th. In the junior high boys race the following ran for the Eagles: Elijah Kopecky 23rd, Chance Kleinberg 40th, Ashton Burival 42nd, Kyle Stearns 50th, Andre Waterman 52nd, and Caleb Laursen 55th.
Next week the O'Neill Eagles will compete this Friday, September 12th, at the Norfolk Catholic Invitational. Racing begins at 3:00 pm. The race is at Sky View Lake.
Story by Cole Hilker. Picture Courtesy of Kevin Morrow.