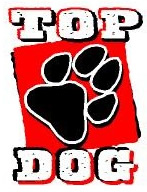 O'Neill – Two athletes have been named this week as Blair Gutshall of O'Neill and Cole Gaughenbaugh of St. Mary's have been named KBRX's Stadium Sports Top Dog Athletes of the Week.
Blair Gutshall a Sophomore for the O'Neill Lady Eagles Track & Field team put together an MVP performance at the Broken Bow Track Invite. Gutshall was able to medal in all four of her events providing big points for the Lady Eagles. Gutshall finished with a first-place finish in the High Jump, and the 100 Meter Hurdles. Gutshall also finished in third-place in the 200 Meter Dash and helped her 4×100 Relay Team to a third-place finish as well. Gutshall was named the female MVP of the Broken Bow Invite and her performance would help the Lady Eagles to a Runner-up finish overall!
Cole Gaughenbaugh a Senior for the O'Neill Eagles Golf team had two impressive performances at the Ord Invite and the Neligh-Oakdale Dual. Gaughenbaugh started off his strong performances in the Neligh-Oakdale Dual where he finished 1st individually by shooting a 1 under par in nine holes of golf. Gaughenbaugh would then continue his hot streak by finishing first individually at the Ord Invite with a 79 in 18 holes. Gaughenbaugh's performance in the Ord Invite would help the O'Neill Eagles to a Runner-up finish!
KBRX would like to congratulate these two athletes for their fantastic performances. If you see an athlete have a great performance, remember to let KBRX know! You can either email KBRX at sports@kbrx.com or text 402-336-1612 for your nominations.