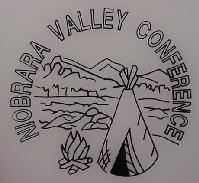 O'Neill – With the basketball season coming to a close it is now time to recognize All-Conference performers.
The NVC Conference has named their First Team, Second Team, and Honorable Mentions for Girls All-Conference players. The Class D1 and D2 State Qualifying North Central Lady Knights, Elkhorn Valley Lady Falcons, Ewing Lady Tigers, and CWC Lady Renegades led the conference with 2 total players on the NVC All-Conference First Team.
Below are all of the players named to the First Team, Second Team, and Honorable mention All-Conference teams.
NVC All Conference Girls Basketball 2018-2019
1st Team:
Taylor Peter CWC Jr
Hannah Ollendick EV Sr
Miah Wiebelhaus North Central Jr
Carlie Wetzel West Holt Sr
Allyson Wemhoff EPPJ Sr
Ashley Koenig Ewing Jr
Amber Miller EV Sr
Emma Stahlecker Boyd County Sr
Hunter Wiebelhaus North Central So
10 Tie. Brenna Wagner Ewing So
10 Tie. Morgan Ramsey CWC So
2nd Team:
Katie Sterns Sr O/C
Sierra Rystom Sr EV
Marina Fessler Sr Stuart
Sidney Stallbaum Jr. Ewing
Michelle Koenig So. CWC
Peyton Randolph Sr. West Holt
Cheney Konopasek Fr Niobrara-Verdigre
Kallie Kayl Jr Boyd County
Megan Cook Sr Niobrara-Verdigre
Sydney Linse Jr North Central
Honorable Mention:
Reagan Engel Jr Stuart
Kirsten Krebs So EPPJ
Sydney Atkinson Sr Boyd County
Lexi Shroder Fr Stuart
Jenna Hallock Fr North Central
Miranda Summers Sr Ewing
Tiana Thramer Jr Ewing
Ryann Haburchack So CWC
Olivia Nall Jr EV
Abby Hedstrom Sr St. Marys
Leighton Mlady Sr West Holt
Paige Furstenau So Neligh-Oakdale
Hannah Sheridan Jr. Santee
KBRX would like to congratulate the area girls basketball players for being named to the All-Conference Teams.