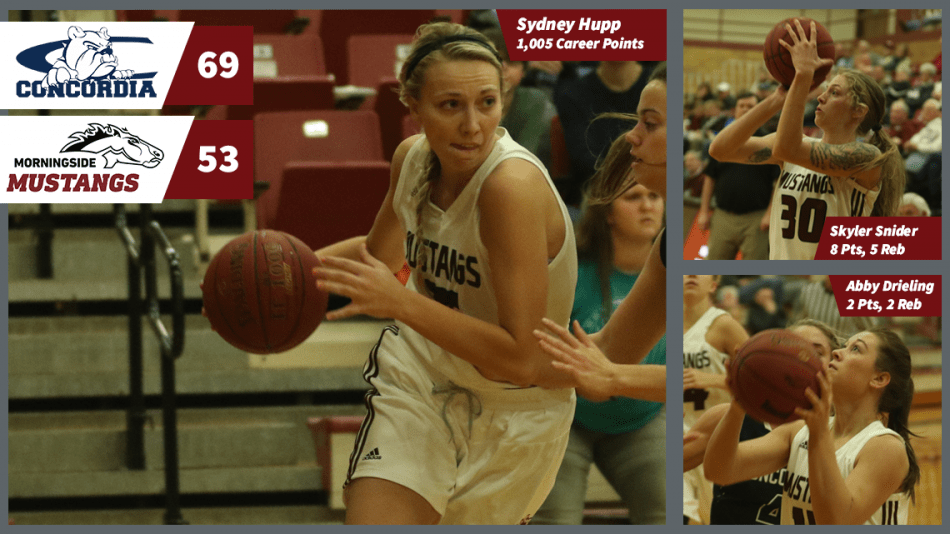 SIOUX CITY, Iowa – No. 14-ranked National Association of Intercollegiate Athletics' Division II Morningside College threw a scare into the division's top-ranked unit from Concordia University Wednesday, Feb. 6.
Getting off the mat after a tough-luck six-point first period, head coach Jamie Sale's squad battled the Bulldogs tooth and nail throughout the remainder of the first half and into the second 20 minutes. They eventually took a 31-29 lead after freshman forward Sophia Peppers (FR/Exira, IA) (Exira, Iowa) drilled a three-pointer with less than seven minutes to go in the third period. However, from that point, the visitors embarked on a 16-4 stretch to end the frame and moved on to a 69-53 Great Plains Athletic Conference decision.
Junior forward/center Sydney Hupp (JR/O'Neill, NE) (O'Neill, Neb.) hit a personal career milestone during the evening on the Allee Gymnasium court at the Rosen Verdoorn Sports Center. Her 20-point scoring total helped her join the program's 1,000-point club. Hupp's night's resume included three rebounds and blocking three Concordia shot attempts. Junior guard Skyler Snider (JR/Kearney, NE) (Kearney, Neb.) came off the bench to contribute eight points and five rebounds while picking up a pair of steals.
Morningside (18-9 overall, 10-9 GPAC) concludes its regular season home schedule Saturday, Feb. 9. Briar Cliff University visits as part of Senior Day 2019 for a 2 p.m. start.