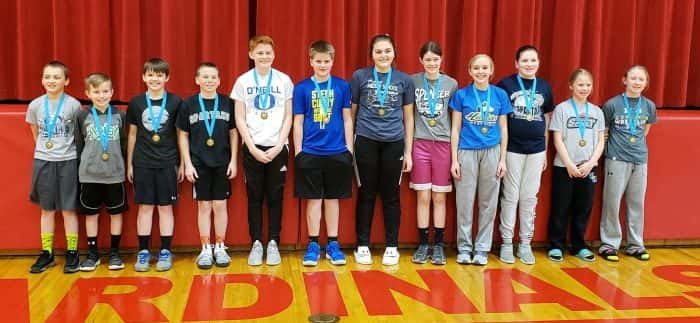 St. Mary's High School in O'Neill was the site for the Knights of Columbus District Free Throw Contest held on Sunday, February 10.
District Champions in each age group advance to the Regional competition in Wayne on March 10.
Here are the winners in each age group along with the runner-up who would be alternate in case the Champion cannont attend Regionals.
Age 9
Girls: 1st Gracyn Painter, Ainsworth – 2nd Taylor Schaaf, Stuart
Boys: 1st Ben Schmitz, Spencer – 2nd Seth Connot, Stuart
Age 10
Girls: 1st Brinley Kerkman, Atkinson – 2nd No Entry
Boys: 1st Xzavier Parks, O'Neill – 2nd Owen Littau, Newport
Age 11
Girls: 1st Addison Biermeier, Spencer – 2nd Makenna Schaaf, Stuart
Boys: 1st Charlie Adams, Fairfax, SD – 2nd Ryan Rifer, Orchard
Age 12
Girls: 1st Miya Carey, Atkinson – 2nd No Entry
Boys: Hudson Hoffman, Spencer – 2nd Hunter Tubbs, Stuart
Age 13
Girls: 1st Natasha Zeisler, Naper – 2nd Abigail Mathis, Atkinson
Boys: 1st Drew Morrow, O'Neill – 2nd Corey Gubbels, Stuart
Age 14
Girls: 1st Sarah Wallinger, Stuart – 2nd No Entry
Boys: 1st Weston Mathis, Atkinson – 2nd Timothy Atkinson, Butte