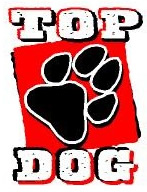 O'Neill – Two athletes have been named this week as Alyssa Eichelberger of O'Neill and Codey Snider of Clearwater-Orchard have been named KBRX's Stadium Sports Top Dog Athletes of the Week.
Alyssa Eichelberger a Sophomore for the O'Neill Lady Eagles basketball team had a career night against the Boone Central Lady Cardinals. Eichelberger helped lift her team past Boone Central in overtime as she led her team in scoring and rebounding. Eichelberger finished off her night with 25 points, 12 rebounds, and 3 assists in an impressive performance.
Codey Snider a Senior for the Clearwater-Orchard Cyclone wrestling team had a big week on the mat. Snider beat the #5 rated Brock Schaecher of Elkhorn Valley in a dual against the Falcons which helped propel the Cyclones over Elkhorn Valley in the dual. Snider also finished 1st in the 182-weight class at the Winside Invite which helped the Cyclones to a runner-up finish in the team race.
KBRX would like to congratulate these two athletes for their fantastic performances. If you see an athlete have a great performance, remember to let KBRX know! You can either email KBRX at sports@kbrx.com or text 402-336-1612 for your nominations.