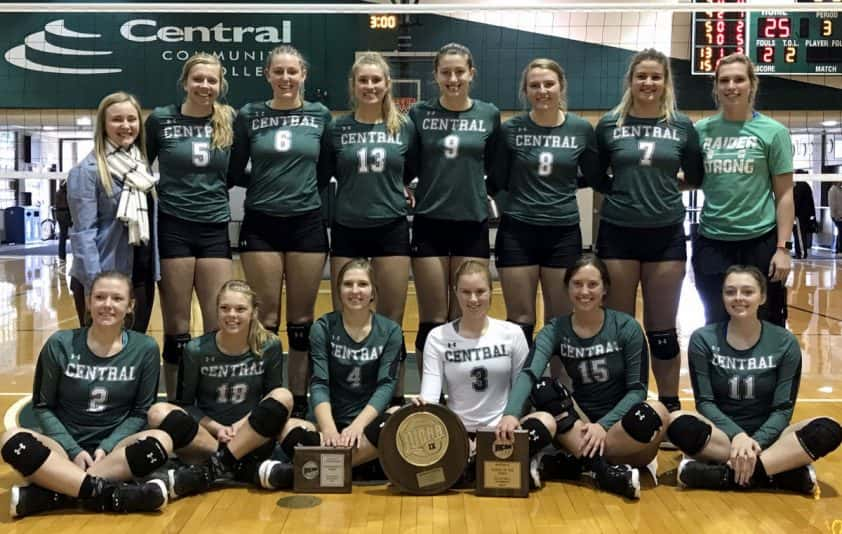 COLUMBUS — Central Community College has won seven straight Region IX volleyball titles, but this one had to feel just a bit better than the previous six.
"We had to really battle back for this one," said CCC head coach Mary Young, whose team swept North Platte Community College on Sunday in the Region IX tournament championship match to advance to the District G playoff and a chance to play in the NJCAA Division II national tourney.
The Raiders, who have reached the title match of the Region IX tournament every year since 2004, lost their opening-round match Friday against North Platte, putting Central in a must-win position in the double-elimination tournament at Raider Fieldhouse.
Central, ranked 11th in NJCAA Division II, led 8-4 and 11-8 in the fifth set against the Knights, but couldn't put North Platte away in the 12-25, 25-17, 25-20, 17-25, 15-13 loss.
"We really let the match on Friday night slip through our fingers," Young said. "We just didn't finish."
The Raiders responded to that letdown with a pair of victories Saturday over Southeast Community College and North Platte.
"I felt like the match against Southeast would be crucial," said Young, who credited her team for playing hard and building confidence in a 25-14, 27-25, 26-24 sweep of the Storm.
Central took two of the first three sets against North Platte, then rallied from an eight-point deficit in Set 4 to win the match 25-17, 23-25, 25-12, 25-22 and force Sunday's winner-take-all championship against the Knights, the teams' third meeting in three days.
"Our girls really need to battle through and win the war against themselves," Young said while noting that unforced errors don't always make the path to victory easy for her team.
That wasn't an issue Sunday as the Raiders rolled to a 25-17, 25-22, 25-14 sweep of North Platte to hoist the Region IX hardware.
Young called her team "resilient" following the three-match run.
"I thought they really learned from the mistakes we made on Friday night," she said.
"We passed exceptionally well today and we blocked well," Young added. "That was the difference between Friday night and yesterday and today."
Outside hitter Amber Anderson led Central with 14 kills in the title match and fellow sophomore Chainey Tompkin added seven kills and seven assisted blocks. The Raiders combined for 18 assisted blocks in the match, including six from Lakeview graduate Jordee Korte.
Young said the performance from the front row was key in the victory.
"We won that game in transition," she said.
The Central coach also praised the student section at Raider Fieldhouse for creating a home-court advantage.
"They really gave us a lot of energy. It was just a great environment for a regional championship," said Young, who was named the Region IX coach of the year for the 13th time.
Central (31-10) will face Bismarck State College on Friday and Saturday in the best-of-three District G playoff for a spot in the NJCAA Division II national tournament.
The Raiders, who have won six straight District G titles, swept the Mystics in three sets Oct. 7 at Raider Fieldhouse, but Young knows everything changes in the postseason, especially since the matches will be played on Bismarck State's home court.
"We have a lot of work to do yet," she said.
Four CCC players — Anderson, Tompkin, Jacie Laetsch and Paxton Throne — were named to the All-Region IX tournament team and the school received the sportsmanship award.
Anderson finished with 42 kills and 19 digs over the four matches and Tompkin had 41 kills, 24 total blocks, 12 digs and six aces, including five in Friday's loss to North Platte.
Laetsch recorded 34 kills and 39 digs, including a double-double performance of 14 kills and 11 digs in Saturday's victory over NPCC, to go along with four assisted blocks and two aces and Throne orchestrated the Raider offense with 149 assists. The sophomore setter also tallied eight kills, two aces, 18 digs and seven assisted blocks in the tournament.
Anderson, Tompkin, Laetsch and Maeghan Pieper were also named to the All-Region IX team for their play throughout the season. Pieper, a Scotus Central Catholic graduate, recorded 215 kills, 109 digs and 52 total blocks before suffering a season-ending injury in late September.
Korte finished the tournament with eight kills and 12 assisted blocks and Morgan Iverson, another Lakeview graduate, had 36 kills and 10 total blocks. Iverson led Central with 12 kills Friday night against North Platte and tied Tompkin with a team-best 11 kills against Southeast CC.
By Tyler Ellyson