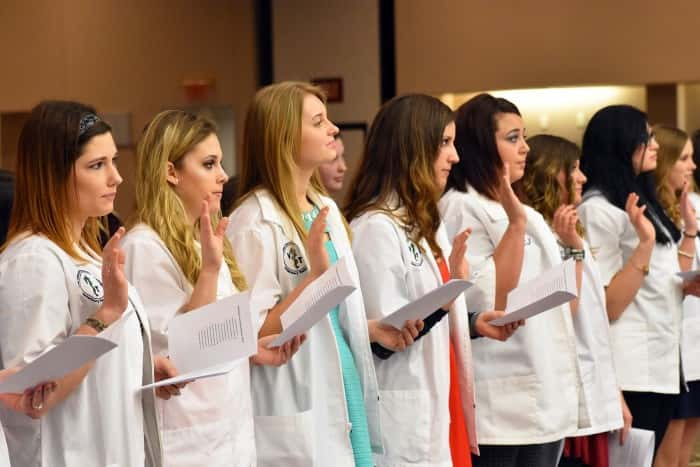 NORFOLK – Students enrolled in Northeast Community College's veterinary technology program received their coats and pins at a special ceremony held recently in Norfolk.
Members of the class of 2017 received their veterinary technician's pins. Members of the Class of 2018 were awarded a monogrammed white coat to mark their formal acceptance into the program.
Dr. Mike Cooper, veterinary technology program director, opened the ceremony followed by comments from Dean of Agriculture, Math and Science Corinne Morris. Josh Schlote, veterinary technology instructor, administered the Vet Tech's oath to the students. Veterinary Technician Instructor Dr. Amanda Hafer and sophomore class representatives Jasmine Phander, Ewing, and Sydney Goertzen, Polk, also spoke at the ceremony.
Dr. Cooper remarked on the significance of the white coats and pins. "Professionalism, pride and responsibility in and out of the classroom, as well as in the veterinary field come to you tonight as you accept these pins and white coats. From this day forward, you will have the opportunity to expand your desire for knowledge, strive for excellence and have the ability to show true professionalism in your careers."
Morris praised the high standards the veterinary technology faculty have set for students since the program's inception in 1996. "The students come back year after year and say, 'Thank you. Thank you for what you did for me to get my career started.'"
"You are all in that seat today, and you are getting started with your careers, and I know that you will find it gratifying as you continue your work through the program and after you graduate," said Morris.
Approximately 250 friends, family members and supporters of the students attended the ceremony.
KBRX area students who received their white coats at the ceremony included Monique Schafer of Stuart and Brittany Kerbel of Bloomfield.
KBRX area sophomore students that were pinned at the ceremony were Jasmine Phander of Ewing and Sarah Stracke of Chambers.
For more information on the Northeast Community College vet tech program, contact Dr. Cooper at (402) 844-7190.